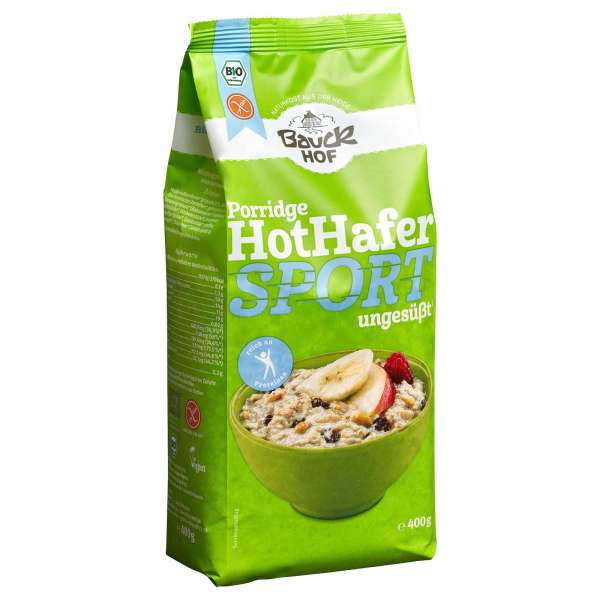 Bauckhof Hot Oats Muesli Sport gluten-free, unsweetened & protein-rich
Start well into the day with a construction farm hot oat muesli for breakfast. Bauckhof Hot Hafer is a pack of energizing ingredients.
This product is currently not available.
---
DE-007
Öko-Kontrollstelle

Manufactured in
GERMANY
Verified & Safe purchase
GoGreen Shipping
14 days refund policy
Product information
All ingredients used by Bauckhof to manufacture its products are free of preservatives and other additives. For this reason, it is not only athletes who like to supply their bodies with the rich mixture of Bauckhof Hot Oats. Vegans and vegetarians also use this rich product.
Advantages and benefits of Bauckhof Hot Hafer Sport
Protein-rich mixture

Guaranteed gluten-free

Lactose-free

Unsweetened

Genetically engineered free

Demeter Organic Cultivation
The high protein breakfast for athletes
Athletes have discovered the Bauckhof Hot Oat Protein Oatmeal and prepare it in the morning as a high protein porridge, for example with two parts milk and one part yoghurt or low-fat pot. Endurance athletes benefit from the fibre- and protein-rich flakes, which provide sufficient energy for training and hobbies. 55 % soy flakes, oat flakes, 19 % dried fruit (15 % apple as dried apple pieces and apple flour, currants, bananas as banana flakes and dried raspberries) as well as rice protein, linseed and the nutritive superfoods quinoa, chia and amaranth turn breakfast into a source of energy.
pure organic - you can taste it
The unique composition of purely organic ingredients not only provides the body with the necessary nutrients, but also tastes uniquely good! And all this without any aroma substances. Everyone who has tried Hot Hafer Sport loves the tasty synthesis of flakes and almond or coconut milk.
Bauchhof is Demeter certified
Bauckhof cultivates its fields purely biodynamically and supplies high-quality natural products. No genetically modified raw materials are used in the production process.
Producers of biodynamic products who cooperate with the Demeter organic farming association pay particular attention to the quality of the raw materials. For example, each production batch of oat flakes is analysed in the laboratory. This is the only way to guarantee the absence of gluten (uniformly < 20 ppm).
Suggestions for the preparation of Bauchhof Hot Oats
Pour 100 ml hot water or milk over 4 tablespoons Bauckhof Hot Hafer Sport. Leave to swell for two minutes.
Add according to your own wishes: Add an extra portion of vitamins from fruit or unsaturated fatty acids from nuts to the High Protein Porridge. The High Protein Porridge is enjoyed warm as a breakfast porridge.
Manufacturer details
Manufactured in Germany
Bauck GmbH, Duhenweitz 4, 29571 Rosche
Country of origin
DE-007
Öko-Kontrollstelle

Manufactured in
GERMANY
---
Allergy relevant information
Properties
Ballaststoffquelle
ohne Eier
ohne Erdnüsse
ohne Fisch
ohne Geschmacksverstärker
ohne glutenhaltige Getreide
ohne Hefe
ohne Knoblauch
ohne Konservierungsstoffe
ohne Krebstiere
ohne künstliche Aromen
ohne künstliche Farbstoffe
ohne Lupine
ohne Mais
ohne Mandeln
ohne Milch & Laktose
ohne Nüsse
ohne Palmöl
ohne Salzzusatz
ohne Schalenfrüchte
ohne Schwefel
ohne Sellerie
ohne Senf
ohne Sesam
ohne Weichtiere
ohne Weizen
ohne Zuckerzusatz
Proteinreich
Vegan
Vegetarisch
Ingredients
oatmeal* (55%)
,
soy flakes*
,
dried fruit* (19%)
,
currants*
,
banana*
,
apple*
,
raspberries*
,
rice protein*
,
quinoa*
,
flaxseed*
,
Amaranth*
,
Chia Samen*
Allergenic ingredients are highlighted in bold.
Ingredients marked with * are from organic farming.
| Nutrition facts | per 100 g |
| --- | --- |
| Energy | 1557kJ / 370kcal |
| | |
| --- | --- |
| Fat | 8.0 g |
| of which saturated | 1.3 g |
| unsaturated fatty acids | |
| of which polyunsaturated | |
| | |
| --- | --- |
| carbohydrates | 49.8 g |
| sugar | 13.5 g |
| | |
| --- | --- |
| protein | 18.4 g |
| salt | 0.02 g |