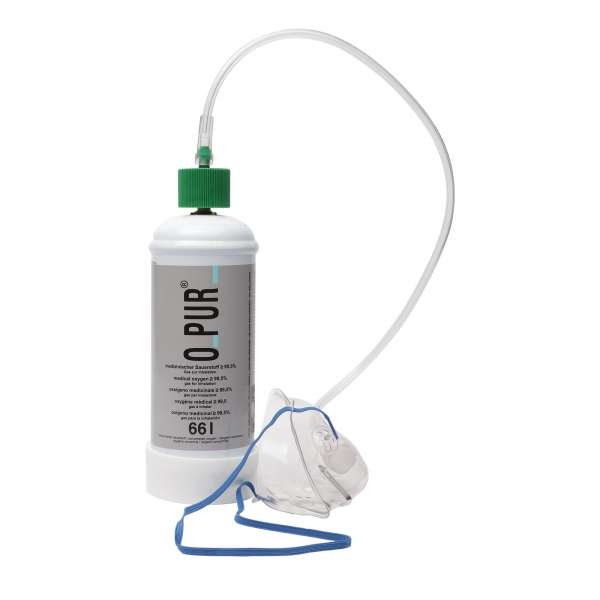 O-Pur Oxygen 66 L - Oxygen bottle with mask
Medical oxygen for on the go ✔ O-Pur oxygen 66 L - Oxygen bottle with mask ✔ Continuously adjustable ✔ Online ▻ kaufen.
---
Get it as soon as 11.08.2021
Manufactured in
SWITZERLAND
Verified & Safe purchase
GoGreen Shipping
14 days refund policy
Product information
oxygen bottle with mask
The O-Pur Oxygen 66 L is a medical oxygen for at home and on the way. It comes with a permanent valve and a mask. The oxygen cylinder with mask is especially designed to support breathing during sporting activities such as mountaineering.
Knowledge about the O-Pur Oxygen 66 L:
Pure, gaseous oxygen

Without propellants and additives

Flow: 4 l/min, up to 33 minutes continuous flow

Valve continuously adjustable

Size with screwed on pressure reducer 24x7,5cm
Helps to physical and mental exhaustion

Steel bottle 100% recyclable
Medical oxygen bottle with mask for on the way
You can use the oxygen from O-Pur wherever you need more oxygen in your blood. This can be in everyday life with smog and air pollution, on long journeys by car or bus or during sporting activities. The latter in particular often put a great strain on the body, which is why O-Pur can compensate for the lack of oxygen. After only 10 breaths, the oxygen content in your blood increases by up to 30%.
Country of origin
Manufactured in
SWITZERLAND
ALLGEMEINE DATEN
Diameter: 7,5 cm
Weight: 918 g
height: 20 cm
---