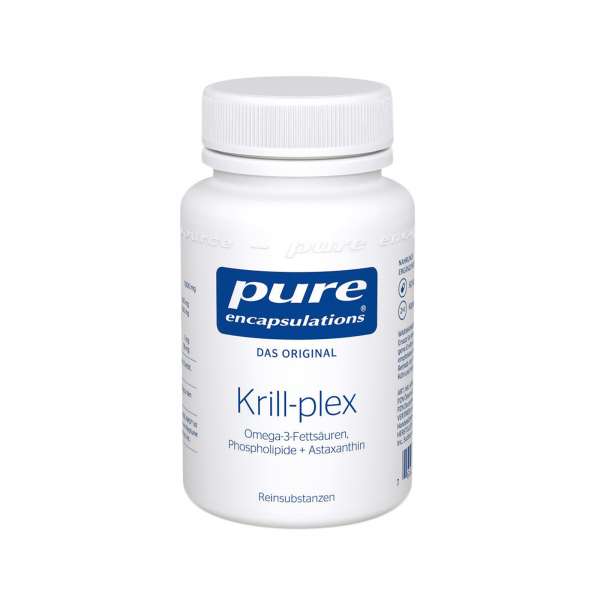 Pure Encapsulations Krill Oil Omega 3 - Fatty Acids Krill-plex 1000mg
Krill Oil Omega 3 with Phospholipids + Astaxanthin ✔ PureEncapsulations Krill-plex Capsules 1000mg ✔ Optimum Bioavailability ✔
---
Manufactured in
USA
Verified & Safe purchase
GoGreen Shipping
14 days refund policy
Product information
Pure Krill-Plex, Krill Oil Omega 3, 60 pieces
Nutritional supplements
Recommended Consumption Omega 3 Krill Capsules:
2x1 capsule per day with meals. The recommended daily intake should not be exceeded.
Ingredients Pure Encapsulations Krill oil 1000mg:
Each capsule contains:
Krill oil 500 mg
contains
Phospholipids 230 mg
Omega-3 fatty acids 125 mg
EPA (eicosapentaenoic acid) 60 mg
DHA (docosahexaenoic acid) 35 mg
Astaxanthin 0.5 mg
Choline 28 mg
Pure Encapsulations Krill Oil with Astaxanthin:
according to the highest possible quality guidelines

Free from lactose, fructose and gluten

Without dyestuffs and additives

Maximum tolerability
Pure Encapsulations Krill-plex, Krill Oil Omega 3: The Original
Pure is a leading producer of high-quality pure substances and has been recommended by health experts for decades. The products are successfully used worldwide in therapy and prevention. There is no second time for the original.
Note Omega 3 Krill Capsules:
Food supplements are not a substitute for a varied diet. A balanced diet and a healthy lifestyle are important. Keep out of the reach of small children. Store in a cool and dry place.
Manufacturer Pure Encapsulations Krill Oil Omega 3:
Pure Encapsulations, Inc., Sudbury, MA 01776, USA
Manufacturer details
Manufactured in USA
Pure Encapsulations, Sudbury, MA 01776, U.S.A.
Country of origin
Manufactured in
USA
ALLGEMEINE DATEN
krill oil: 1000 mg
Dosage: 2 x 1 Kapsel pro Tag zu den Mahlzeiten
---
Allergy relevant information
Properties
ohne Hefe
without almonds
without celery
without cereals containing gluten
without colourings
without eggs
without flavour enhancer
without fructose
without garlic
without lupine
without milk & lactose
without mustard
without nuts
without nuts
without palm oil
without peanuts
without preservatives
without sesame
without soya
without sugar substitute
without sulphur
without sweetcorn
without wheat
Ingredients
krill oil
,
Kapsel: Gelatine
,
glycerine
,
sorbit
,
flavouring: ethyl vanillin
Allergenic ingredients are highlighted in bold.
| Nutrient | per day in portions | Reference value |
| --- | --- | --- |
| Dosage | 2 x 1 Kapsel pro Tag zu den Mahlzeiten | |
| krill oil | 1000 mg | |
* (in % der täglichen Referenzmenge) Nährstoffbezugswerte (nutrient reference values) gem. LMIV (1169/2011/EU)