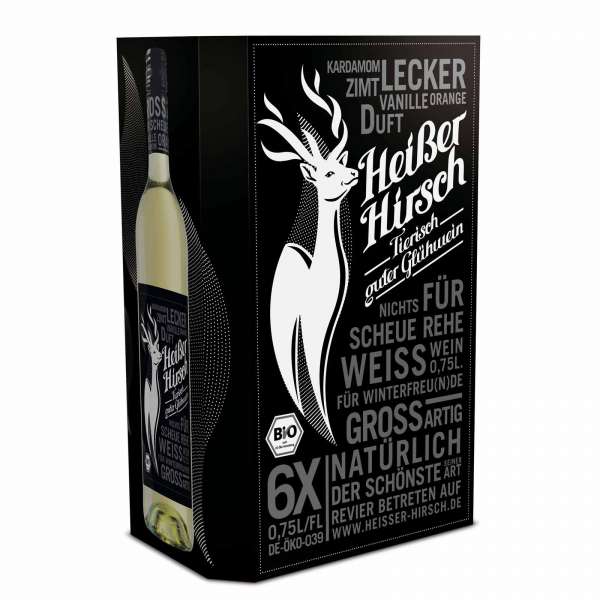 White mulled wine hot stag - buy box with 6 bottles 0,75 l
Vegan Glühwein white in 6er Pack ✔ From Arién Organic White Wine, 10% Vol., exquisitely seasoned, gluten-free ✔ Hot Stag white ▻ buy in gift box.
This product is currently not available.
---
DE-039
Öko-Kontrollstelle

Manufactured in
GERMANY
Verified & Safe purchase
GoGreen Shipping
14 days refund policy
Product information
A very special speciality: white wine Glühwein
Hot stag White mulled wine presents itself fruity and rich in aroma nuances. The white wine Glühwein gets its aromatic taste from a finely balanced spice mixture. At 10% vol. it is slightly lighter than its red counterpart. Its pleasant sweetness comes from cane sugar. Hot stag white is a
vegan mulled wine and 100% controlled organic
. Every sip convinces with notes of vanilla, pimento, coriander, cardamom, cinnamon and macis blossom. Excellent with gingerbread and for mulled wine jelly!
In a six-pack
Hot stag
is well received on every invitation! Order 6 bottles of 0.75 litre white mulled wine each in the decorative gift box.
Hot stag White mulled wine Storage and gift box
6 bottles, each 0,75 Liter

White wine Glühwein Bio

alcohol content 10% vol.

Without gelatin clarified, vegan

Sweetened with cane sugar, gluten-free

Popular for Glühwein with Amaretto

Attractively packaged to give away
White mulled wine preparation
Please heat only up to 70°C, so that the fine nuances of the biological spices and the aroma of the white wine Glühwein are preserved.
White mulled wine for the preparation of Christmas delicacies
Put on a box of 6 hot stags as a supply for the many delicious winter mulled wine recipes. A
vegan mulled wine made from organic ingredients
goes perfectly with many a recipe idea. Due to its versatility, white mulled wine is popular for cakes and sweet specialities. Vanilla, pimento, macis blossom, cinnamon, coriander, cardamom round off the fruity taste of Arièn grapes in hot deer white wine mulled wine nuanced. This benefits many Christmas delicacies.
Mixed drinks such as
glow wine with Amaretto
taste good with hot deer due to the balanced taste composition of the spices. White mulled wine with aperol, the cult drink at many Christmas markets, is not for shy deer. Who would like to take only little alcohol to itself, Christmasliche hot drink with apple juice mixes itself. At PureNature in the online shop there is the animalically good hot stag mulled wine white and red, as well as the non-alcoholic punch individually and in a six-pack.
Contains sulphites.
Contains 10% vol. alcohol. Protection of minors: Dispatch of alcoholic beverages only to adults (according to AGB).
Manufacturer details
Manufactured in Germany
ACHT GRAD plus GmbH, Ten-Brink-Str. 14, 78629 Volkertshausen
Country of origin
DE-039
Öko-Kontrollstelle

Manufactured in
GERMANY
---
Allergy relevant information
Properties
low-fat
ohne Hefe
vegan
vegetarian
without added salt
without added salt
without almonds
without artificial flavours
without celery
without cereals containing gluten
without colourings
without decoration
without eggs
without fish
without flavour enhancer
without garlic
without lupine
without milk & lactose
without mustard
without nuts
without nuts
without palm oil
without peanuts
without preservatives
without sesame
without soya
without sweetcorn
without wheat
Ingredients
white wine*
,
sugar
,
cinnamon*
,
cloves*
,
vanilla
,
cardamom*
,
allspice*
,
Macisblüten*
,
orange*
,
lemons (organic)*
Ingredients marked with * are from organic farming.