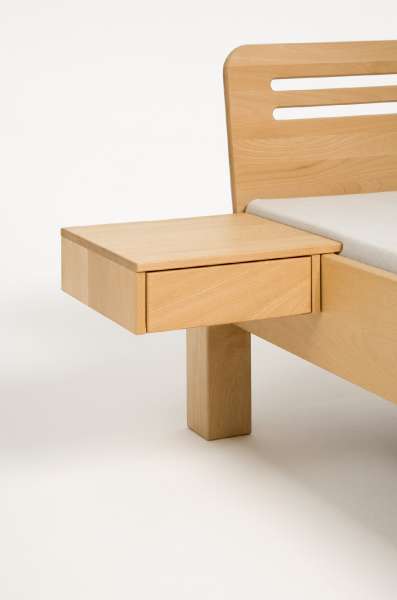 Bedside Table O-Shape Metal-free
The practical O-form attachable night table made from solid beechwood. Made in Germany.
---
Get it as soon as 27.08.2020
Manufactured in
GERMANY
Verified & Safe purchase
GoGreen Shipping
14 days refund policy
Product information
A bedside table for practical thinkers! Simple in design, the attachable O-shaped beside table provides generous space for your night lamp, books or magazines. Includes a large drawer for your personal things.

Sustainable Production:
The elegant attachable table is made of solid beech wood, which is PEFC certified: This guarantees for sustainable forestry.

Highest quality for you:
The principle is simple but brilliant - thanks to the special wedge-in principle the table can be produced metal-free and absolutely stable. You will enjoy it for a very long time!

Ecologically safe :
The glue is formaldehyde-free. We are happy to send a safety information sheet, if you like.

Produced according to the latest ecologically safe findings:
No metal parts used. Particularly sensitive people may have difficulty sleeping when they sleep on a spring mattresses or in metal beds. A metal-free construction, however, supports a peaceful and restful sleep.

Surface:
Natural oil / wax is used for the bedside table. Upon request we offer the bedside table untreated for the same price, which later however, requires higher maintenance.

For more information about the oil / wax:
Ecological hard wax oil for the wood surface: An ecological hard wax furniture oil from Austria is used for the surface of the PureNature solid wood bed Natur. The furniture oil contains linseed oil, sunflower oil, soya oil, carnauba wax and candellila wax for best protective properties. From a building biology point of view, this hard wax oil is particularly suitable for allergy sufferers and MCS sufferers because it does not contain citrus pene. The low-odour oil/wax mixture ensures that the natural wood smell, which can be perceived as annoying with allergies, is included. The wood surface becomes particularly smooth with the hard wax oil with pleasant Haptik and is particularly protected against humidity, dirt and sunlight.

Material: Solid Beechwood

Glue: Only formaldehyde-free white glue is used

Dimensions:
Dimensions of table top: 400 x 400mm
Thickness: 20 mm
Height: Can be adjusted to the seat height of the bed upon request.

Delivery does not include mattress,slatted frame or decoration.


Country of origin
Manufactured in
GERMANY
---