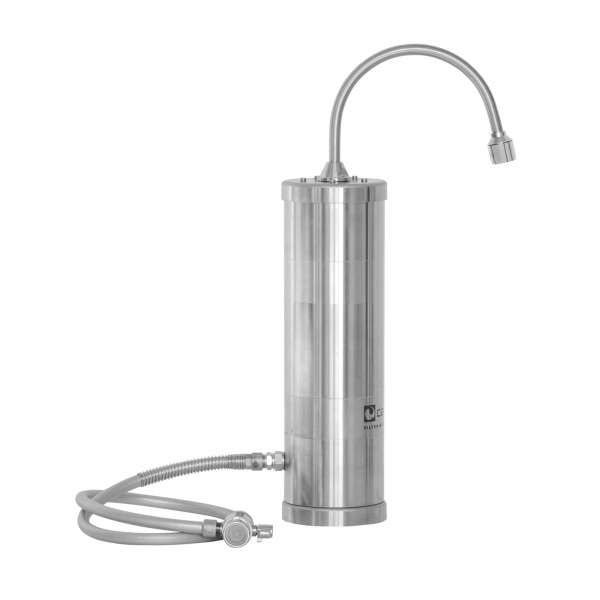 Carbonit SanUno Inox Water Filter Tap Attachment Countertop
Water filter tap attachment with base plate & NFP filter cartridge for countertop. Stainless steel. To be connected to a faucet & easy to assemble ✔
---
Fast delivery!
less piece in stock
Manufactured in
GERMANY
Verified & Safe purchase
GoGreen Shipping
14 days refund policy
Product information
Water filter for maximum requirements
The Carbonit SanUno Inox is a designer countertop water filtration system made from stainless steel with tested filter performance. The
water filter tap attachment
reduces the pollutants in water and, at the same time, improves the taste and smell. Chlorine, pesticides, drug residues, bacteria, heavy metals and many other contaminants are filtered from the water. Professional water filtration ensures clean, filtered drinking water at any time.
Installation with no fuss
Attach the Carbonit SanUno water filter for kitchen sink straight to the tap and with no tools required you have
filtered water available immediately
. A NFP Premium-9 filter cartridge which filters water thoroughly is enclosed. Important minerals such as calcium and magnesium are not filtered from the water.
Special features of the Carbonit SanUno Inox Water Filter Tap Attachment
Housing is made of stainless steel (V4A)
Activated carbon monobloc filter does not get contaminated with germs
Hose is free from phthalates and made of silicone
NFP Premium-9 filter cartridge is included
Filter permeability 0.45 µm, flow rate 2L per min.
Without silver and without chemical additives
Essential minerals are retained in water
Easy to attach, easy to use, in an appealing design
Attach the water filter for kitchen sink straight to the faucet. An adapter for fittings with M24x1 internal threads are enclose. The
chlorine water filter
is user-friendly. A lever at the filter operates a diverter valve which gives you a choice between filtered and unfiltered water. The unobtrusive elegant stainless steel design makes it a suitable addition for fitting in any kitchen.
Thoroughly tested filter performance
The chlorine water filter has been developed for the hygienic requirements of the medical sector. The NFP Premium-9 filter cartridge is included with the
stainless steel Carbonit SanUno
and removes up to 99% chlorine from the water.
The Carbonit SanUno Inox with NFP Premium-9 active carbon block filter removes
Chlorine, chloroform > 99,9%
Pesticides, herbicides
Metal, heavy metals
Asbestos, polycyclic aromatic hydrocarbons
Drug residues, hormones
Bacteria and micro-organism > 99,9%
Lead and copper are eliminated up to 90%
Water filters are advisable when drink water contains lead
In many places there is still lead in the drink water system. Lead pipes and connecting parts made of toxic heavy metals are particularly common in older buildings. The lead from lead pipes gets into the water. Water pipes made from copper also contaminate water. The
countertop water filtration system
eliminates more than 90% of lead and copper from water.
Biological contaminants are effectively removed
Continuous hygiene tests demonstrate that the Carbonit Filter NFP Premium-9 reduces bacteria, fungi, yeasts and microorganisms up to more than 99.9%. The filter cartridges themselves remain abacterial, which has been shown through independent trials. All Carbonit SanUno water filter and cartridges are
continuously tested by independent laboratories
which gives you the security of healthy, clean drinking water.
The water filter tap attachment design
The functional design is unobtrusive and easy to clean. It makes a nice addition to all kitchen fittings and is made from highest V4A quality stainless steel. The connective hose is made from high-grade silicone, free from phthalates and designed to minimize contact with plastic.
Water filters and MCS - Chemical Sensitivity
People, especially with Multiple Chemical Sensitivity require drinking water free from plastic and phthalates. The
stainless steel Carbonit SanUno Inox
makes filtered water available which has not been in contact with those problematic substances.
Including premium filter cartridge
Included in the delivery is a Carbonit NFP Premium-9 filter cartridge. The active carbon monobloc filter cartridge reliably
filters up to 10,000 litres of drinking water
. A filter change is recommended every 6 months. The NFP Premium-9 provides 120 litres of filtered water per hour at 4 bar.
Choice of filter cartridge for the SanUno Inox
The standard cartridge included in the delivery is the NFP Premium-9. Other choices include all cartridges 9 3/4" with a diameter of 76mm. If your drinking water is contaminated by pesticides or chemicals it is
recommended to use the NFP premium filter
. People with MCS can get added security and the premium filter is used as standard in the Carbonit SanUno Inox. In comparison with the IFP Puro or NFP Clario, the NFP premium filter has double the capacity when it comes to filtering out chemicals.
How often to exchange the filter cartridge?
It is recommended to exchange the filter after 6 months. Heavy use can necessitate an earlier exchange. If the water flow is markedly reduced before the 6 months are up then, in all likelihood, sediment or microorganism are blocking the filter. This indicates that the filter requires to be exchanged sooner.
Original Carbonit replacement filter cartridges and other
high quality drinking water filters
are available from the PureNature online shop.
Please note:
The filters are exclusively for the use with cold water and the filtration of drinking water. Only use on a tap or faucet. Do not attach to shower head or behind a pressureless boiler. If you have any queries regarding the suitability of your water system or any other water filters, please get in touch and our PureNature experts are happy to provide you with advice and information.
Country of origin
Manufactured in
GERMANY
ALLGEMEINE DATEN
Dimensions: 199 x 390 x 93 mm
Weight: 2,7 kg trocken
temperature: 10° - 28° C
body material: PP
included in delivery: Filtergerät mit Anschlusschlauch, Umlenkventil mit Gewindeadapter, eine Filterpatrone NFP-9 Premium
General Data
Filter Kapazität: 10000 Liter
Filter change: 6 Monate
design: Aktivkohle Block
Filter fineness: 0,45 µm
Features
Betriebsdruck max.:: 6 bar
Equiqment
water flow: 2 L/min
---
Material
stainless steel
,
activated charcoal from coconut shells
| Property | Value |
| --- | --- |
| filtering purpose | Aluminium, bad taste, chemicals, chlorine, copper, E. coli bacteria, germs bacteria, heavy metals, iron, lead, mould / yeast, nickel, Nitrat, odour, pesticides, pharmaceutical residues, rust particles, sediments, viruses |
| range of application | office, on countertop |
| no filtering of | Legionella bacteria, limestone, nitrate |