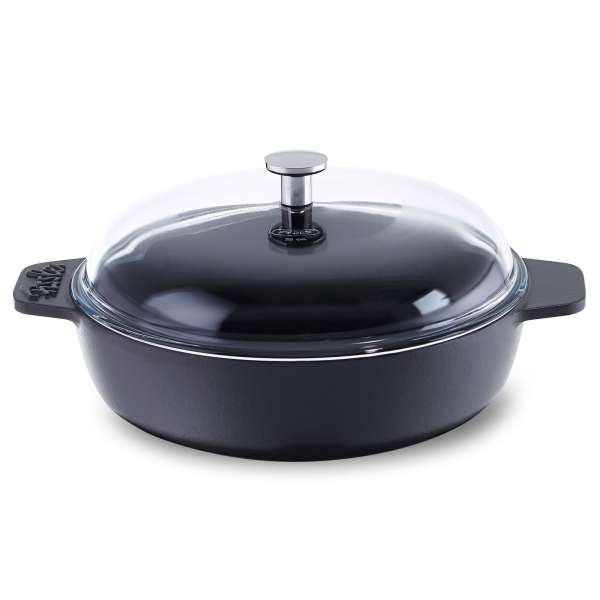 Fissler Arcana Cast Iron Frying Pan with Lid for All Hobs
Versatile Fissler cast iron frying pan with lid for authentic Austrian hash or stewing and braising ✔ 28 cm Ø and ovenproof up to 250°C ✔
---
Verified & Safe purchase
GoGreen Shipping
14 days refund policy
Product information
Braising, roasting and frying
The Fissler Arcana 28cm cast iron frying pan is a versatile multi-talent combining features of a roaster with that of a skillet. It can be used on
all hobs including induction and ceramic
. The material of the Fissler frying pan with lid retains heat well and conducts it to the inside of the pan. This helps to crisp up potatoes or other foods on all sides and a medium heat is sufficient. The
high-quality cast iron frying pan
with lid is robust and durable. Why not enjoy your authentic Austrian hash straight from the pan for a rustic dinner with a holiday feeling? Or use it as cast iron stew pot for your most comfort food stew recipes.
Fissler Arcana cast iron frying pan with lid
Robust and scratch resistant
For one-pan cooking and eating straight from the pan
Suitable for braising, frying and stewing
28 cm in diameter and with glass lid
Oven proof up to 250°C with energy saving design
Suitable for all hobs including ceramic and induction
Innovative and designed by chefs
Extend your meal plan and get inspired by the possible menus that you can cook with the
Fissler cast iron frying pan with lid
. Use it for your favourite roasts, some melt-in-the-mouth braising steak or one-pan cooking. Unlike many other frying pans that can go in the oven, the cast iron radiates heat to the inside of the
Fissler Arcana
so cooking and braising in the oven requires less heat. The glass lid is slightly domed to allow for larger roasts and it always lets you see how far the cooking has progressed without having to open the lid. The Fissler frying pan with lid is perfect for serving roasts and stews straight from oven to table.
Impervious to scratches and easy to clean
Washing up can be done in the dishwasher. The enameled exterior of the
Fissler Arcana
is hardy and dishwasher proof. The non-porous surface is taste neutral and easy to clean with a sponge.
More
rustic and professional cookware by Fissler
are available from the PureNature online shop.
ALLGEMEINE DATEN
Weight: 4 kg
Dimensions: Ø 28 x 20 cm
---