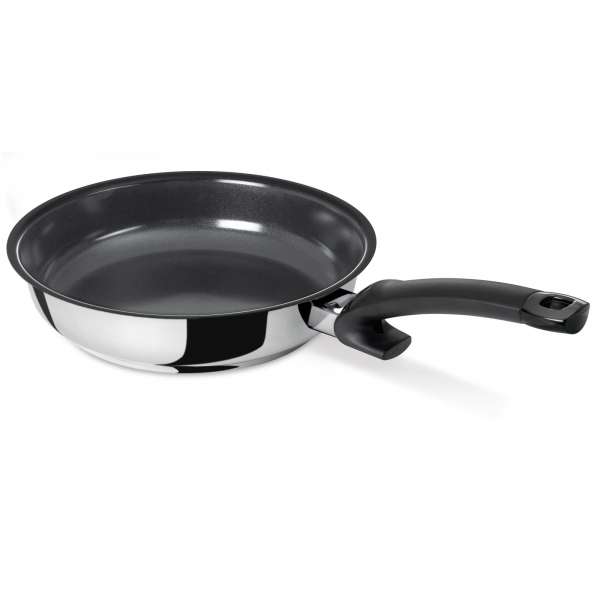 Fissler Comfort Ceramic Non-Stick Frying Pan - an Allrounder
Fissler ceramic non-stick frying pan. Heat-proof up to 400°C and the mineral based coating extremely scratch-resistant ✔ Suitable for induction hobs ✔
---
---
available from 30.01.2020
€99.99
available from 30.01.2020
available from 30.01.2020
available from 30.01.2020
available from 30.01.2020
Prices incl. VAT plus shipping costs
Manufactured in
GERMANY
Verified & Safe purchase
GoGreen Shipping
14 days refund policy
Product information
The multi-talent for every kitchen
No frying job is too hard for the Fissler ceramic non-stick frying pan. The sturdy stainless steel ensures durability and contributes with its heat conducting properties to
great cooking performance
. The steel bottom heats up quickly for flash frying and also distributes heat evenly so that food can be gently fried. Sausages simply sizzle and do not burst. The high quality coating, which can withstand temperatures up to 400°C, enables low fat cooking. Caramelise onions or apples without burning or sticking. The
Fissler non-stick frying pan
is robust and forgiving which makes the maxeo comfort perfect for novices or master chefs.
Fissler ceramic non-stick frying pan for daily use
High quality ceramic coating, PFOA and PTFE-free
Scratch-resistant and heat resistant up to 400°C
Available in four sizes for all cooking needs
Ergonomically formed handle and pouring rim
Suitable for all hobs including gas and induction
Stainless steel non-stick cookware made in Germany
The Fissler non stick frying pan is a wildcard in cookware
When all your specialist pans are in use, the ceramic non-stick frying pan can be used for any frying purpose left to perform. The
ergonomically formed handle
prevents the hand from slipping and simplifies moving the skillet quickly when, for example, sautéing and flash frying. The handle is also shaped to hook in the glass lid or splatter guard when needed and works as a hinge. The stainless steel makes it a suitable frying pan for induction cookers and all other hob types. The
Fissler maxeo comfort skillet
can be used for a wide variety of dishes which makes it the perfect utensil for beginners and an essential cooking tool for advanced chefs.
More
Fissler stainless steel cookware
, the clippix hook-in splatter shield and the glass lid are available from the PureNature online shop.
Country of origin
Manufactured in
GERMANY
ALLGEMEINE DATEN
Weight: 0,8 kg, 1,2 kg, 1,9 kg
Dimensions: (LxBxH) 40x22x5 cm, Ø 20 cm, 1,1 Liter
Bodendurchmesser 2:: Ø 24 cm: 185 mm (für Kochplatte größer 180 mm)
Bodendurchmesser 3:: Ø 26 cm: 202 mm (für Kochplatte größer 180 mm)
Bodendurchmesser 4:: Ø 28 cm: 225 mm (für Kochplatte größer 220 mm)
base diameter: Ø 20 cm: 145 mm (für Kochplatte größer 145 mm)
---
Material
stainless steel
,
ceratal keramische Versiegelung
,
aluminum