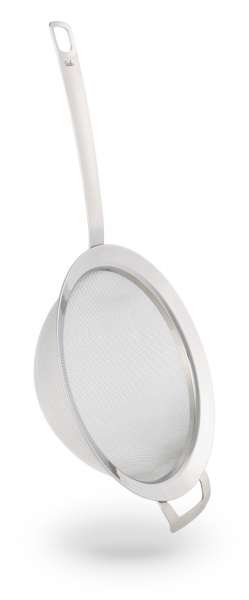 Stainless steel kitchen sieves - in three sizes from Fissler Q!
Stainless steel kitchen sieve in innovative Fissler Q! design. Dimensionally stable, light handle & counter handle so nothing tips ✔ Available in 8, 16 & 20 cm.
---
---
Verified & Safe purchase
GoGreen Shipping
14 days refund policy
Product information
Chef chefs recommend stainless steel
as material for kitchen sieve The high-quality stainless steel kitchen sieves belong to the professional equipment of a kitchen. The know-how for the
Fissler sieve in Q! design
was provided by professional chefs. The advantages are evident in daily use. The two handles are particularly practical. The long handle is deliberately designed to be light to prevent tilting. The Q! design kitchen sieves also have a short, rounded counter handle to place them securely on the edge of the pot or bowl. The kitchen sieves are available in the three sizes needed in the kitchen for cooking and baking.
Kitchen sieves from the Fissler Q! kitchen helper series
Available in three major sizes

fine mesh stainless steel, dimensionally stable

Material does not charge up electrostatically

Particularly light, stable handle

Concept for stabilization

18/10 stainless steel, dishwasher safe
Kitchen sieves for many purposes in three sizes
The smallest Fissler sieve with a diameter of 8 cm is suitable for straining tea or lemon juice. Use the small
kitchen sieve with fine mesh
for dusting your homemade cake with icing sugar. You get a decorative white pollination.
The Fissler sieve in the size 16 cm or 20 cm is ideal for sieving flour. The professional thing about it, the material of the
kitchen sieve stainless steel
, does not charge in contrast to plastic sieves. With less effort, you get a finely sieved result when baking cakes.
The Q! design kitchen sieves can be hung on the kitchen rail, space-saving and always ready to hand.
ALLGEMEINE DATEN
Weight: Ø 8 cm: 0,04 kg, Ø 16 cm: 0,22 kg, Ø 20 cm: 0,27 kg
Dimensions: Ø 8 cm, 19 x 8 x 4 cm
---