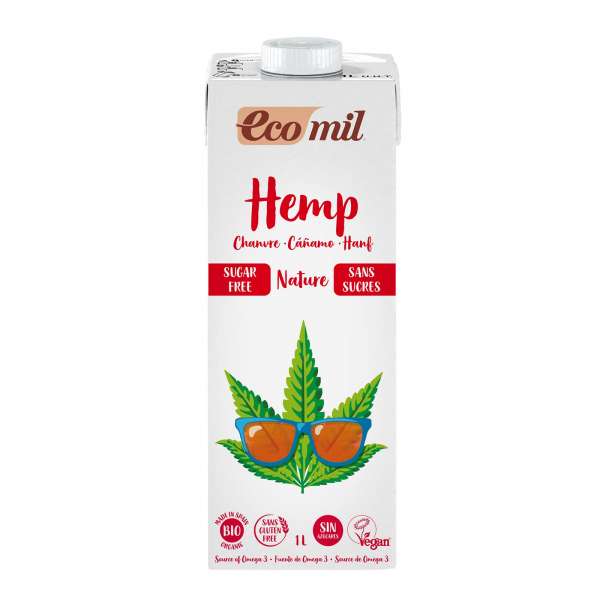 Hemp drink without added sugar, lactose-free, gluten-free & vegan
Enjoy the lactose-free drink without added sugar, also called hemp milk, best lightly chilled. Very good soy milk alternative!
---
ES-ECO-020
Öko-Kontrollstelle

Hergestellt in Spanien
Verified & Safe purchase
GoGreen Shipping
14 days refund policy
Product information
Sugar-free hemp milk from Ecomil - the alternative to soy milk
Ecomil introduces the first sugar-free hemp drink! The Ecomil Hemp Hemp Drink Nature is wonderfully creamy and tastes slightly nutty, a completely new taste experience. Vegans, in particular, who always take care to absorb enough high-quality protein, appreciate the fine hemp milk with its mild taste. It can be served chilled as a refreshing drink or warm.
The Ecomil Hemp hemp drink is also very suitable for making desserts, milkshakes or puddings. Vegans try it instead of soy or almond milk in pancake dough or in tea or coffee as an alternative to milk or cream.
Tip: Homemade organic hemp cocoa - simply heat the desired amount of hemp milk and mix with two or three teaspoons of organic cocoa. The result is a deliciously creamy organic hemp cocoa!
By the way, hemp is a thoroughly "green" plant. Its cultivation conserves resources, because it requires only little water and grows under almost all climatic conditions.
Ecomil Hemp Organic Hemp Drink, unsweetened:
100% vegetable

sugar-free - contains less than 0.5 g sugar per 100 ml

Unsweetened - the natural sugar content is less than 0.1 g/100 ml

lactose-free

gluten-free

Low salt content
Remarks for storage:
Shake well before opening. After opening, store in refrigerator and consume within 5 days.
Manufacturer details
Nutriops S. L., P.I. Cabecicos Blancos Avda., ES-30892 Librilla
Country of origin
ES-ECO-020
Öko-Kontrollstelle

Hergestellt in Spanien
---
Allergy relevant information
Properties
Fettarm
fructosearm
Kohlenhydratarm
ohne Eier
ohne Erdnüsse
ohne Fisch
ohne Geschmacksverstärker
ohne glutenhaltige Getreide
ohne Hefe
ohne Knoblauch
ohne Konservierungsstoffe
ohne Krebstiere
ohne künstliche Aromen
ohne künstliche Farbstoffe
ohne Lupine
ohne Mais
ohne Mandeln
ohne Milch & Laktose
ohne Nüsse
ohne Palmöl
ohne Salzzusatz
ohne Schalenfrüchte
ohne Schwefel
ohne Sellerie
ohne Senf
ohne Sesam
ohne Soja
ohne Weichtiere
ohne Weizen
ohne Zuckerzusatz
Vegan
Vegetarisch
Kann Spuren enthalten
almonds
edible nuts
nuts
peanuts
Ingredients
water
,
hemp* (3%)
,
cannabis oil* (1.3%)
,
tapioca starch*
,
sunflower lecithin
Ingredients marked with * are from organic farming.
| Nutrition facts | per 100 g |
| --- | --- |
| Energy | 159kJ / 37kcal |
| | |
| --- | --- |
| Fat | 2.7 g |
| of which saturated | 0.8 g |
| unsaturated fatty acids | |
| of which polyunsaturated | |
| | |
| --- | --- |
| carbohydrates | 1.9 g |
| sugar | 0.1 g |