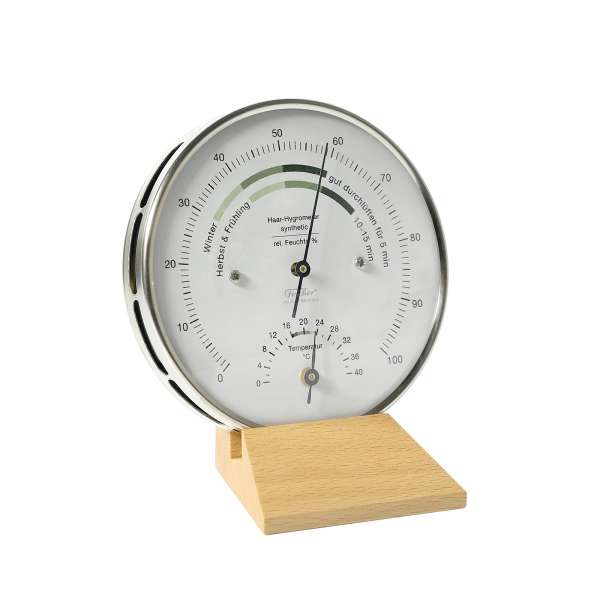 Fischer 122.01 HT Thermometer-Hygrometer analogue
Thermometer Hygrometer analog - easy to read ✔ Made of stainless steel with synthetic fiber and ventilation recommendations. For hanging and placing ✔
---
Verified & Safe purchase
GoGreen Shipping
14 days refund policy
Product information
For a healthy indoor climate
The Fischer analogue thermometer-hygrometer is uncomplicated and precise. The Fischer Hygrometer 122.01 HT is used for the reliable measurement of humidity as a function of temperature (psychrometric principle). At a glance, you can see whether the heater should be ventilated and turned up or down. The display distinguishes between the seasons. The indoor climate meter is accompanied by a detailed description with information on the optimal placement and maintenance of the device. You can either hang the precision hygrometer on the wall or place it on a wooden base. Medical studies have confirmed that increased air humidity above 50 - 60 percent can promote the development of allergies and asthma.
Preventing the formation of mould with indoor climate meters
With the thermometer hygrometer analog you can keep the right balance between optimal ventilation and heating. This saves heating costs and ensures a healthy room climate, because optimally ventilated rooms are avoided by mould.
Fischer Thermometer-Hygrometer analog made of stainless steel
With detailed description and ventilation recommendation

Helps to prevent mould and save heating costs

With synthetic measuring element and real wood base

Easy to read and easy to maintain

For a healthy indoor climate

Without batteries or power
High-quality synthetic fibers for precise measurements
The thermometer-hygrometer analog has a specially treated measuring element made of a synthetic fibre instead of a real hair. This has been developed primarily for the dry climate of interiors. It has the advantage that it only needs to be moistened and calibrated once a year. A detailed description for maintenance and optimal placement is included with the hygrometer with ventilation recommendation. The measuring accuracy is +/- 3 % RH in the range of 25 to 100 % relative humidity. The analogue hygrometer is environmentally friendly - without electricity or batteries.
Allergy info
The housing of the Fischer Hygrometer 122.01 HT is made of stainless steel. People with a severe nickel allergy should avoid skin contact as stainless steel contains nickel.
ALLGEMEINE DATEN
Dimensions: Edelstahlgehäuse Ø 103 mm
---