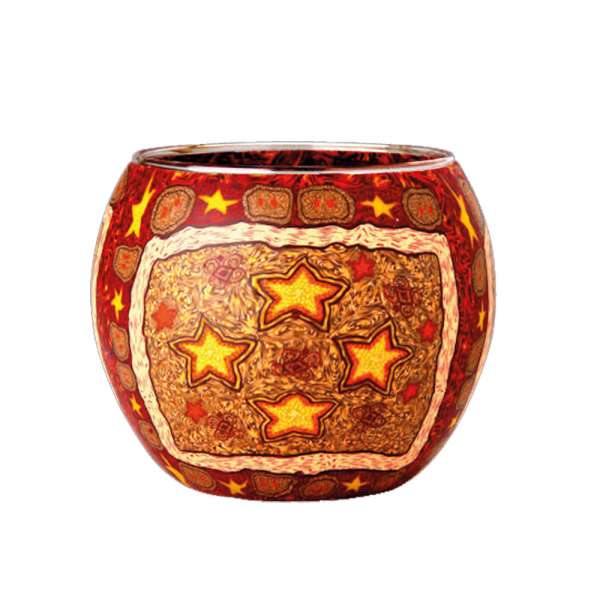 Illuminated glasses handmade - various motifs
Coloured illuminated glasses for tea light or LED, Ø 11cm ✔ Made of glass lovingly by hand ✔ illuminated glass cheap ▻ buy.
---
---
Get it as soon as 26.11.2019
Manufactured in
GERMANY
Verified & Safe purchase
GoGreen Shipping
14 days refund policy
Product information
Romantic mood due to candlelight
The warm colours of the illuminated glass provide atmospheric light in the room. Place a tea light in the illuminated glass and enjoy the play of colours that shines through the coloured glass. All
luminous glasses are elaborately handmade
and each is a little different. The glass edge is silver bordered and makes the illuminated glass appear very high quality.
Light glasses for tea lights
Handmade from glass

For tea light made of wax or LED

can also be used as wind light

With silver metal edge

diameter 11 cm
Magical colour and light accents
Decorate the illuminated glasses at the window with LED tea lights instead of wax candles. In the evening it looks beautiful when
a colored light glass stands on the windowsill
and shines outside.
Take on the dining table or coffee table preferably real tea lights for
the handmade illuminated glasses
. The flickering of the candlelight is incomparably cozy and intensifies the atmospheric light that shimmers through the decorative luminescent glass. You can find more colourful illuminated glasses and tealights made of stearin or beeswax in the PureNature Online Shop.
Country of origin
Manufactured in
GERMANY
ALLGEMEINE DATEN
Diameter: Öffnung ca. 8 cm
Dimensions: Ø 11 x 8,5 cm
---