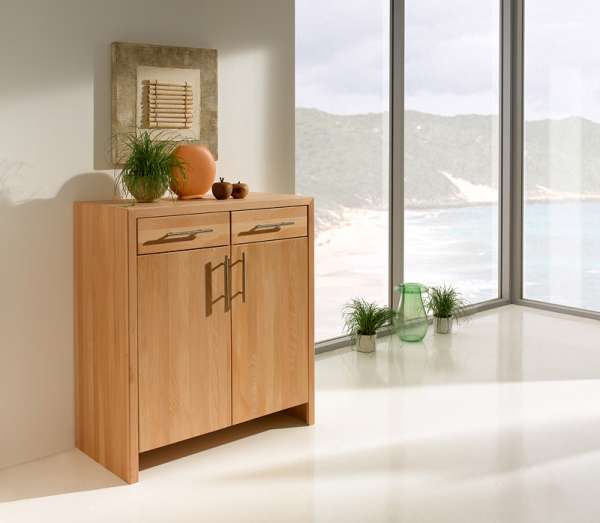 Solid Wooden Highboard Sasso
The solid wood highboard Sasso is perfect for organizing at home. Provides extra storage space and matches all our beds.
---
Get it as soon as 13.07.2020
Manufactured in
GERMANY
Verified & Safe purchase
GoGreen Shipping
14 days refund policy
Product information
The practical Highboard Sasso made from fine-grained beechwood has been crafted in best tradition. Robustly made and extremely practical with 2 drawers, 2 doors and 2 shelves inside. This means the highboard offers plenty of storage space for your everyday things: underwear, socks, pajamas and maybe a few secrets, hidden way in the back ... The highboard is like all other pieces of our furniture- made to last and provides you with years of enjoyment! Survives every move without a problem!

When we choose furniture, we not only pay attention to the beautiful design. The ecological balance of beechwood is excellent: only local wood from PEFC-certified forestry is used. This light-coloured wood will only slightly darken and is very durable and stable.

Modern self-closing, soft & silent drawers make this highboard absolutely suitable for everyday use and very comfortable.

Save yourself the hassle of assembly: The highboard is delivered to you assembled and ready to place anywhere!

Sustainable Production:
The elegant highboard is made of solid beech wood, which is PEFC certified: This guarantees for sustainable forestry.

Highest quality for you:
Local wood, self-closing soft and silent drawers - you will enjoy it for a very long time!

Ecologically safe :
The glue is formaldehyde-free. We are happy to send a safety information sheet, if you like.

Surface:
Natural oil / wax is used. Upon request we offer the highboard untreated for the same price, which later however, requires higher maintenance.

For more information about the oil / wax:
Ecological hard wax oil for the wood surface: An ecological hard wax furniture oil from Austria is used for the surface of the PureNature solid wood bed Natur. The furniture oil contains linseed oil, sunflower oil, soya oil, carnauba wax and candellila wax for best protective properties. From a building biology point of view, this hard wax oil is particularly suitable for allergy sufferers and MCS sufferers because it does not contain citrus pene. The low-odour oil/wax mixture ensures that the natural wood smell, which can be perceived as annoying with allergies, is included. The wood surface becomes particularly smooth with the hard wax oil with pleasant Haptik and is particularly protected against humidity, dirt and sunlight.

Material: Beechwood

Glue: Only formaldehyde-free white glue is used

Dimensions:
W x H x D: 90 x 90 x 45 cm
Features: 2 self-closing, soft and silent drawers, 2 doors. 2 shelves can be found inside

Delivery does not include decoration.


Country of origin
Manufactured in
GERMANY
---