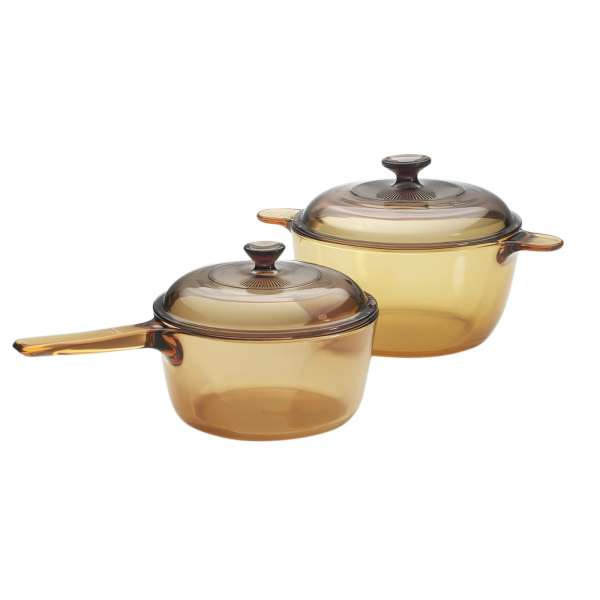 Visions Pots - Glass Casserole Dish 2.5 L and Saucepan 1.5L
Two Visions pots with lids made of thermal shock proof glass ✔ For microwave & all types of cookers except induction ✔ Great for vegetables & vegans.
---
Manufactured in
FRANCE
Verified & Safe purchase
GoGreen Shipping
14 days refund policy
Product information
Glass-ceramic pans made from thermal shock proof glass
The robust material holds heat longer than metal and can be used in oven, microwave and on all hobs except induction. It is also usable for storing food in fridge and freezer; no need to put your leftovers in separate dishes. The glass of the
Visions pots
is free from BPA and phthalate and does not give off other chemicals either. Metal pots can react with acid and alkali, contained in fruit and vegetables, and give off small amounts of metal. These can taint the taste of food and get into the body. For that reason
glass pans for cooking
are one of the best choices for nickel allergy sufferers and people with MCS (Chemical Sensitivity).
The two Visions pots are true all-rounders
Contains a casserole dish 2.5L & a saucepan 1.5L with lids
BPA free, nickel free, taste neutral
Hardened, non-porous glass-ceramic
Suitable for fridge and freezer & dishwasher-proof
Transparent amber glass allows monitoring of food
Suitable for all hob types except induction
The glass casserole set is the choice for all vegans and veggies' lovers
The cookware without metals makes sure your vegetables taste of vegetables and nothing else. They also look more appetising as no discoloration can occur. With
Visions pots
handling food is raised to a whole new level. Leftovers can stay in the microwave safe casserole dish, go into fridge or freezer and be reheated in the same dish. Even serving food is easier with the glass pans for cooking. The
amber glass pots
are beautifully designed and readily lend themselves as serving bowls. The glass casserole set by Visions has so many varied applications it makes an excellent starter set for people new to cooking.
Discover more
glass-ceramic cookware
sets and pans by Visions in the PureNature online shop.
Country of origin
Manufactured in
FRANCE
ALLGEMEINE DATEN
length: 17,7 cm, 20,7 cm
Weight: 1,40 kg, 1,96 kg
capacity: 1,5 Liter, 2,5 Liter
included in delivery: 1 Topf mit 1 Kasserolle und 2 Glasdeckel
Width with handle: 30,6 cm (2,5 Liter), 31,3 cm (1,5 Liter)
height with lid: 15,3 cm (1,5 Liter), 17,7 cm (2,5 Liter)
bottom: Ø 13,0 cm (1,5 Liter), Ø 14,0 cm (2,5 Liter)
width: 17,7 cm, 20,7 cm
height: 9,6 cm, 11,3 cm
---
| Property | Value |
| --- | --- |
| free from | without chrome, without coating, without Nano particles, without nickel, without phthalate, without plastic, without PTFE / PFOA |
| type of pot | all purpose pots, pasta pots, set of cooking pots, soup pot |
| colour | yellow |
| material of pots | glass |
| properties | classic, dishwasher-proof, for heavy metal allergy, for nickel allergy, modern, with lid |
| cooker type | ceramic glass hob field, electric cooker, gas cooker, microwave, oven |
| shape | round |