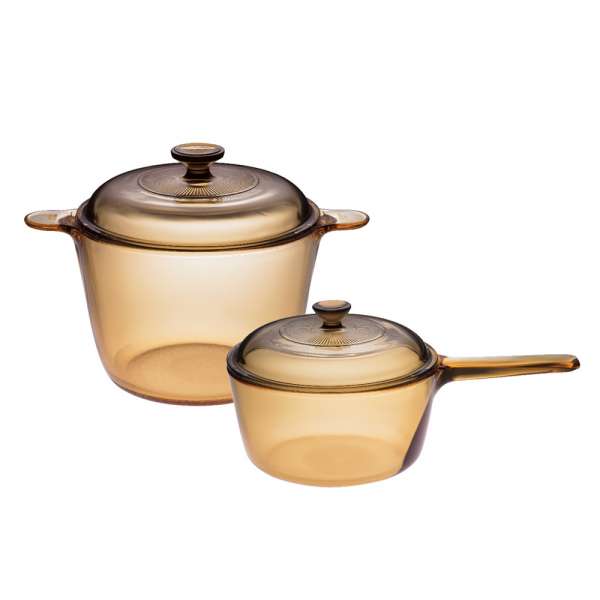 Visions Glass Pots and Pans - Set of 2 Dishes with Lids
Visions Glass Pots and Pans. Thermal shock resistant & dishwasher proof. One large casserole dish 3.5 L & one saucepan 1.5 L. For healthy & vegan dishes.
This product is currently not available.
---
Manufactured in
FRANCE
Verified & Safe purchase
GoGreen Shipping
14 days refund policy
Product information
High quality glass pots and pans by Visions
Glass-ceramic has amazing properties which makes it the perfect material for cookware. It is robust and thermal shock resistant and can be used in oven, freezer, microwave, fridge and on all hob types except induction. With the
Visions cookware set
you can store, cook, reheat, slow roast and stew food. The transparent pot allows easy monitoring of food during the cooking process. The glass retains heat better than metal. Food served in the beautiful
amber glass pots
stays warmer for longer and the cooking process requires less energy.
Visions glass pots and pans for a great cooking experience
Set of two, a casserole dish 3.5L and saucepan 1.5L with lids
Suitable for all hob types except induction
BPA, Nickel-free and Phthalates-free
Suitable for people with MCS (Chemical Sensitivity) and nickel allergy
Energy saving, thermal shock resistant glass-ceramic
Suitable for dishwasher, oven, freezer and microwave
The varied applications of the Visions glass pots and pans
Vegans and vegetable enthusiasts will find that cooking with glass cookware enhances the taste of fruit and vegetable. Metal pans can give off taste and even discolour food.
Glass-ceramic does not react with foods
and because it retains heat better than metal it cooks vegetables faster and leaves more vitamins intact. If you are looking for a new way of how to cook a brisket in the oven the 3.5L transparent pot is the perfect choice.
Glass casserole dishes
brown roasts more evenly and quickly than metal. Visions cookware allows you to cook healthily and eco-friendly.
Country of origin
Manufactured in
FRANCE
ALLGEMEINE DATEN
Weight: 1,40 kg, 2,44 kg
length: 17,6 cm, 20,8 cm
capacity: 1,5 Liter, 3,5 Liter
included in delivery: 1 Topf mit 1 Kasserolle und 2 Glasdeckel
Width with handle: 30,2 cm (3,5 Liter), 31,2 cm (1,5 Liter)
height with lid: 15,4 cm (1,5 Liter), 22,0 cm (3,5 Liter)
bottom: Ø 12,5 cm (1,5 Liter), Ø 14,5 cm (3,5 Liter)
width: 17,6 cm, 20,8 cm
height: 9,6 cm, 15,2 cm
---
| Property | Value |
| --- | --- |
| free from | without chrome, without coating, without Nano particles, without nickel, without phthalate, without plastic, without PTFE / PFOA |
| type of pot | all purpose pots, pasta pots, set of cooking pots, soup pot, Stieltöpfe / Kasserollen |
| colour | yellow |
| material of pots | glass |
| properties | classic, dishwasher-proof, for 4 persons, for heavy metal allergy, for nickel allergy, modern, with lid |
| cooker type | ceramic glass hob field, electric cooker, gas cooker, microwave, oven |
| shape | round |