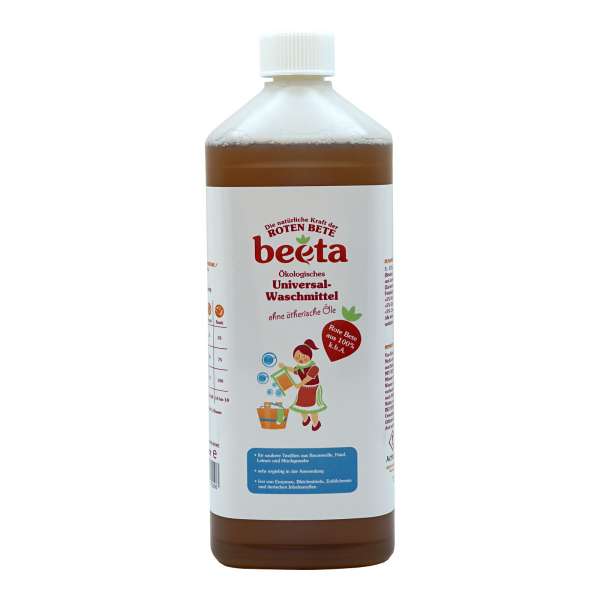 Beeta detergent biodegradable- without fabric softener
Ecological Beeta detergent - all temperatures & colorful ✔ Environmentally friendly & biodegradable ❀ Fragrance free, without enzymes, without optical brighteners ✔
---
Manufactured in
GERMANY

Vegan
Verified & Safe purchase
GoGreen Shipping
14 days refund policy
Product information
Wash clean and protect the environment
Beeta detergent was developed for allergy sufferers and the environmentally conscious. Wash natural clothing made of cotton, hemp or linen and blended fabrics with the environment and health-friendly
heavy-duty detergent liquid
. Beeta detergent owes its strong cleaning effect to an extract of beet. Due to its purely vegetable composition, the detergent is biodegradable.
The fragrance-free formula
, specially adapted for PureNature, is suitable for all washing temperatures and for hand washing.
Fragrance-free and free from unnecessary chemicals
It is up to each of us to do our part to protect our waters. With Beeta detergent
free of enzymes, optical brighteners and free of microplastics
, our waters are not polluted. Nevertheless, your laundry will be clean, free of dirt, odors and you make an active contribution to environmental protection. Another plus point for our nature and your health: although
the liquid detergent does not contain fabric softener
, your laundry will be soft thanks to the patented extract from beetroot.
Beeta detergent with powerful organic formula.
Biodegradable, without microplastics

Pure vegetable, suitable for allergy sufferers

With PureNature without fragrances

Without enzymes and optical brighteners

Suitable for all temperatures and for hand washing

Vegan, without animal testing

Without fabric softener
Clean laundry due to natural plant extract
The biodegradable detergent cleans the fibers of your laundry thoroughly and gently. In a purely natural way, the organic detergent copes with dirt and odor from sweaty clothes. Adjust the dosage to the degree of soiling in an environmentally friendly way and wash your
laundry clean at 30°, 40° or 60°C.
With the liquid detergent without fabric softener and optical brighteners, natural clothes and coloreds stay beautiful longer. Sensitive fibers and colors are protected by vegetable lipids. Supplement the
biodegradable detergent
with the ecological Beeta stain remover for heavier soiling or stubborn stains.
Allergy sufferers, neurodermatitis sufferers and chemical-sensitive people with MCS benefit from the sensitively formulated Beeta detergent without fabric softener, which is characterized by
good compatibility and skin-friendliness.
Like all Beeta cleaners, the detergent is vegan and without animal testing.
Hint

ACHTUNG:Verursacht schwere Augenreizung. Ist ärztlicher Rat erforderlich, Verpackung oder Kennzeichnungsetikett bereithalten. Darf nicht in die Hände von Kindern gelangen.
BEI KONTAKT MIT DEN AUGEN: Einige Minuten lang behutsam mit Wasser spülen. Eventuell vorhandene Kontaktlinsen nach Möglichkeit entfernen. Weiter spülen. Bei anhaltender Augenreizung: Ärztlichen Rat einholen/ärztliche Hilfe hinzuziehen. Behälter nur völlig restentleert der Wertstoffsammlung zuführen.
Country of origin
Manufactured in
GERMANY

Vegan
Equiqment
washing temperature: 30 - 95° C
number of wash loads: 13-28 Wl
ALLGEMEINE DATEN
Dosage: 50 ml (8,4-14 °dH) - normale Verschmutzung
---
Material
Aqua
,
cocamidopropyl betaine
,
Alkylpolyglucoside
,
sodium coco sulphate
,
beta vulgaris (beetroot)
,
glycerine
,
sodium carbonate
,
sodium citrate
| Property | Value |
| --- | --- |
| detergent properties | 30 - 95°C, Buntwäsche, Flüssigwaschmittel, Handwäsche, Vegan, Weißwäsche |
| ingredients | ohne Alkohol, ohne Chlor, ohne Duftstoffe, ohne EDTA, ohne Enzyme, ohne Erdölprodukte, ohne Farbstoffe, ohne Gentechnik, ohne optische Aufheller, ohne Palmöl, ohne Phosphate, ohne Salicylate |