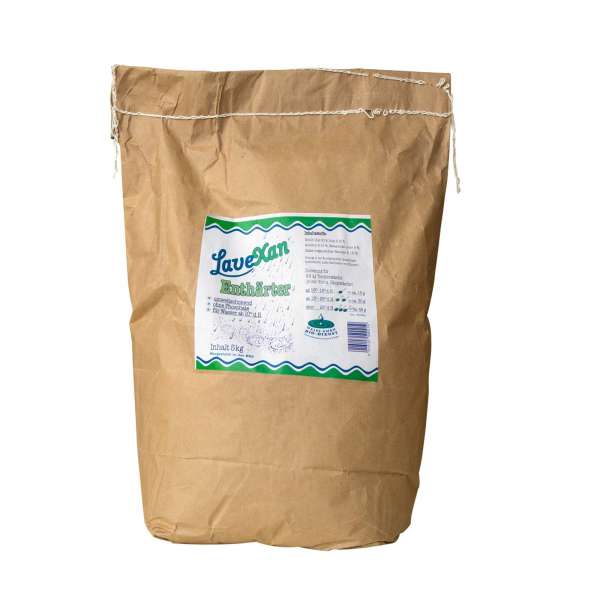 Lavexan softener washing machine - 5 kg value pack
Bio service softener washing machine - prevents limescale buildup in lime-laden water ✔ Scent-free, phosphate-free ✔ Lavexan water softener 5 kg ▻ buy.
---
Manufactured in
GERMANY
Verified & Safe purchase
GoGreen Shipping
14 days refund policy
Product information
Water softener washing machine useful or not?
If the local water hardness is above 10° dH, the water should be softened, for example with softener washing machine from LaveXan. Otherwise, the detergent has only a reduced washing power and lime soaps are formed, which are noticeable by unsightly deposits on the laundry items. This means: Using Lavexan water softener washing machine optimizes the washing result. The use of Lavexan water softener is particularly useful when using a modular detergent system.
Water softener washing machine: Your advantages
softens hard water

phosphate-free

prevents lime deposits in the washing machine

without fragrance, colorants and preservatives

environmentally friendly, as no chlorine or petroleum products are used

vegan
Softener washing machine: Application
Simply add the Lavexan water softener washing machine to the detergent. The dosage depends on the local water hardness, which can be asked at the local waterworks (also online) or can be determined yourself by means of a water hardness test strip. If you use the washing machine softener, you will not need a fabric softener and less detergent than before.
Country of origin
Manufactured in
GERMANY
ALLGEMEINE DATEN
Dosage: 15 g (10-15 °dH), 30 g (15-25 °dH), 45 g (über 25 °dH)
---
Material
zeolite (30%)
,
sodium carbonate
,
clay
,
Salts of Organic Acids
,
metasilicate (5%)
| Property | Value |
| --- | --- |
| ingredients | without alcohol, without alcohol, without chlorine, without colourings, without EDTA, without enzymes, without fragrances, without optical brighteners, without palm oil, without phosphate, without preservatives |