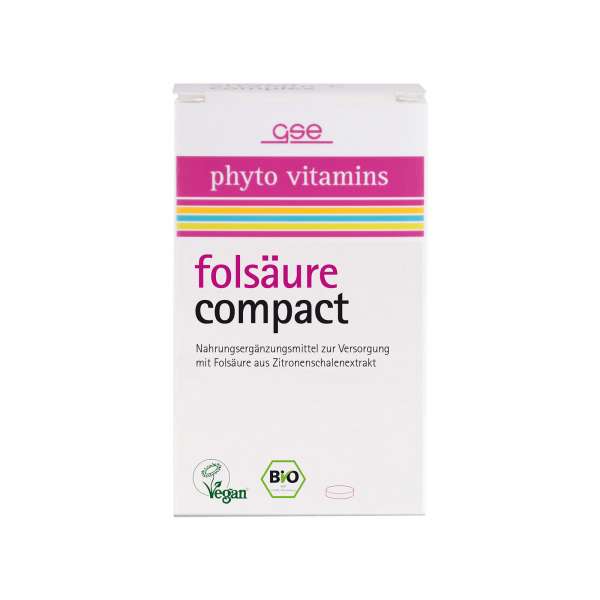 GSE Folic Acid Compact - Organic Folic Acid before Pregnancy
Innovative Phyto Vitamins: GSE Folic Acid Compact Tablets derived from the lemon peel of organic lemons. Buy Vegan ✔ Now ▻.
---
DE-024
Öko-Kontrollstelle

Manufactured in
GERMANY
Verified & Safe purchase
GoGreen Shipping
14 days refund policy
Product information
GSE Folic acid compact, vegan food supplement Bio
GSE Phyto Vitamins, 120 tablets à 280 mg
Dietary supplement for the supply of folic acid from lemon peel extract
Folic acid contributes to the growth of maternal tissue during pregnancy and has a function in cell division
.
Folic acid contributes to:
in pregnancy
normal hematopoiesis
Reduction of fatigue and fatigue
a normal function of the immune system
normal mental function
normal amino acid synthesis
a normal homocysteine metabolism
For pregnant women, the EFSA (European Food Safety Authority) recommends a daily intake of about 400 micrograms of folic acid. It is recommended that folic acid be consumed in sufficient quantities during lactation to support the growth and development of the baby.
The special thing about GSE Phyto Vitamins
Vitamins and minerals are mostly produced chemically. For Phyto Vitamins Folic Acid Compact, the peel of organic lemons is processed in a novel process to extract folic acid and secondary plant compounds such as bioflavonoids. No chemical solvents are used for this process, the extraction is water-based. The ingredients for GSE Phyto Vitamins Folic Acid compact are all organically grown.
Recommended intake:
Consume 1 tablet 1 x daily with sufficient liquid. The recommended daily intake must not be exceeded.
ingredients:
1 tablet contains:
Folic acid 400 µg
All ingredients are organically grown. Vegan - without animal ingredients. Free from lactose, gluten, additives or preservatives. The amber glass packaging contains the ingredients.
Notes:
Food supplements are not a substitute for a varied diet. A balanced diet and a healthy lifestyle are important. Keep out of the reach of small children. Store in a cool and dry place.
Manufacturer GSE Phyto Vitamins Folic Acid Compact:
GSE Vertrieb GmbH
66119 Saarbrücken
Manufacturer details
Manufactured in Germany
GSE Vertrieb GmbH, Bühler Str. 32, 66119 Saarbrücken
Country of origin
DE-024
Öko-Kontrollstelle

Manufactured in
GERMANY
---
Allergy relevant information
Properties
ohne Hefe
vegan
vegetarian
without added salt
without almonds
without artificial flavours
without celery
without cereals containing gluten
without colourings
without decoration
without eggs
without fish
without flavour enhancer
without garlic
without lupine
without milk & lactose
without mustard
without nuts
without nuts
without palm oil
without peanuts
without preservatives
without sesame
without soya
without sulphur
without wheat
Ingredients
maltodextrin
,
rice*
,
lemon peel*
Ingredients marked with * are from organic farming.
| Nutrient | per day in portions | Reference value |
| --- | --- | --- |
| folic acids | 400 mcg | 200 % |
* (in % der täglichen Referenzmenge) Nährstoffbezugswerte (nutrient reference values) gem. LMIV (1169/2011/EU)