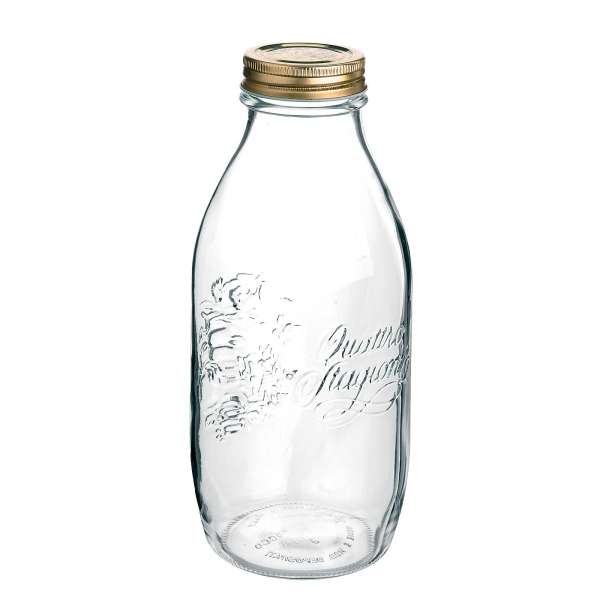 Quattro Stagioni Glass Bottles with Lids for Self-Made Juice
Decorative glass bottles with lids. Perfect when making your own juice or lemonade or for serving cool drinks in summer. Easy to clean and refill ✔
---
Manufactured in
ITALY
Verified & Safe purchase
GoGreen Shipping
14 days refund policy
Product information
Glass bottles with lids for juice and sauces
The Bormioli Rocco bottle makes work easy and quick when making your own juice or soy milk. The 1 L glass bottles for juicing is
suitable for pasteurisation
. The functional Italian design adds beautiful vintage decoration to your apple or tomato juice. The
Quattro Stagioni
glass bottles for juicing are also fantastic to store self-made soy milk in fridge or pantry. The 1 L glass water containers with the ornamental Quattro Stagioni script is also perfect as table decoration.
Advantages of the Quattro Stagioni glass bottles with lids
The bottles with twist off lids keep juice fresh
Wide opening, easy to fill
1 litre capacity, can be sterilised
Spare lids available
Suitable for pasteurising juice and sauces
Functional Italian design combined with Mediterranean retro chic
Serve your self-made soy milk at breakfast in the Quattro Stagioni bottle. Orange juice, too, looks appetising when served freshly pressed in these
glass bottles with lids
. Use them for juice or as glass water containers
with airtight twist off lids
. There are many practical food storage applications for the decorative Quattro Stagioni bottle.
Country of origin
Manufactured in
ITALY
ALLGEMEINE DATEN
Diameter: Öffnung: 5 cm
Dimensions: (HxB) 22,5 x 8 cm
---