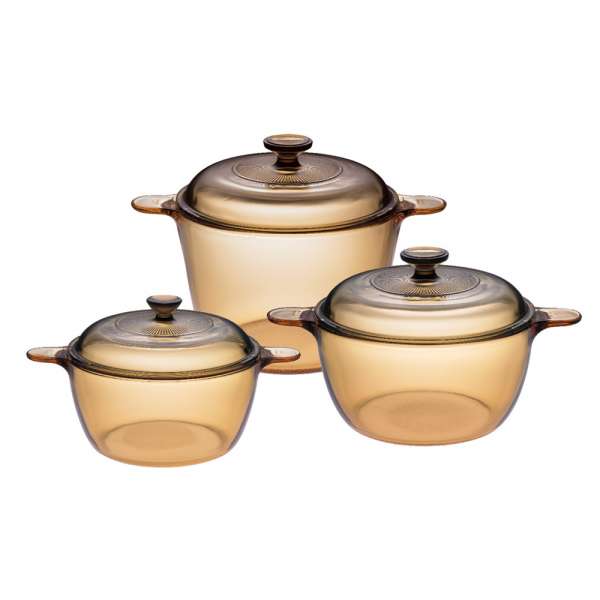 Visions Glass Cookware - Set of 3 Casserole Dishes with Lids
Visions Glass Cookware Set. Three different sized pots with lids. Perfect for making jam & family sized meals. Thermal shock resistant & dishwasher proof.
---
Manufactured in
FRANCE
Verified & Safe purchase
GoGreen Shipping
14 days refund policy
Product information
Versatile Visions glass cookware with lid for healthy cooking
Unlike metal pots and pans the vision glass cookware does not give off chemicals during cooking and does not react with acid or alkali found in fruit and vegetables. This results in a better taste and it makes the
glass pan set
perfect for health-conscious people and those with allergies or MCS (Chemical Sensitivity). The perfect cooking set for beginners consists of
three casserole dishes with lids
in three different sizes, 1.5L, 2.5 L and 3.5 L. Glass-ceramic retains heat better than metal. Keep your food warm by serving it in the beautiful amber coloured glass pan set.
The Visions glass cookware not only for beginners
Heat retaining glass-ceramic
Three casserole dishes with lids
Thermal shock resistant
Microwave & dishwasher-proof
Suitable for all hobs except induction
Perfect for storing food in fridge & freezer
Discover a new way of cooking with the glass casserole with lid
Small batch jams and preserves are easily done in the large casserole dish as the glass allows effortless monitoring. Leftovers can be stored in fridge or freezer in the same
thermal shock resistant casserole dish
as they were cooked and also reheated again. The neutral taste adds another level to your gourmet cooking. Because of the heat retaining qualities of the glass, the
Visions glass cookware
saves energy. Use three pots for a whole family dinner or individually for smaller dishes and let yourself be inspired by the Visions glass casserole with lid.
Country of origin
Manufactured in
FRANCE
ALLGEMEINE DATEN
length: 15,2 cm, 18,0 cm, 20,6 cm
Weight: 1,26 kg, 1,96 kg, 2,44 kg
capacity: 1,5 Liter, 2,5 Liter, 3,5 Liter
included in delivery: 3 Töpfe mit 3 Glasdeckel
Width with handle: 26,5 cm (1,5 Liter), 30,3 cm (3,5 Liter), 30,6 cm (2,5 Liter)
height with lid: 15,6 cm (1,5 Liter), 17,9 cm ( 2,5 Liter), 22,1 cm (3,5 Liter)
bottom: Ø 13,4 cm (1,5 Liter), Ø 14,2 cm (2,5 Liter), Ø 14,8 cm ( 3,5 Liter)
width: 15,2 cm, 18,0 cm, 20,6 cm
height: 9,7 cm, 11,2 cm, 20,6 cm
---
| Property | Value |
| --- | --- |
| free from | ohne Beschichtung, ohne Chrom, ohne Kunststoffe, ohne Nanopartikel, ohne Nickel, ohne Phtalate, ohne PTFE / PFOA |
| type of pot | Allzwecktöpfe, Pastatöpfe, Suppentöpfe, Topfsets |
| colour | gelb |
| material of pots | Glas |
| properties | bei Nickelallergie, bei Schwermetall Allergie, für 4 Personen, klassisch, mit Deckel, modern, Spülmaschinenfest |
| cooker type | Backofen, Ceranfeld, Elektroherd, Gasherd, Mikrowelle |
| shape | Rund |