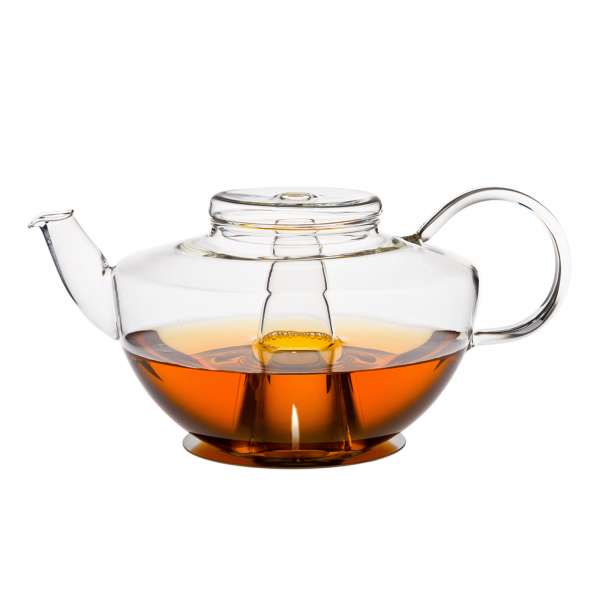 Trendglas Lumos Glass Teapot with Candle Warmer Integrated
Lumos Glass Teapot with Candle Warmer is illuminated from inside ❀ Decorative & warming ❀ Relax with a candlelit hot beverage of your choice.
---
Verified & Safe purchase
GoGreen Shipping
14 days refund policy
Product information
The celebration of tea time with Lumos
The Lumos designer glass teapot with candle warmer is a masterpiece made by Trendglas Jena. The innovative design places the candle warmer inside the
tempered glass teapot
with great effect; the transparent glass teapot becomes a lantern. The heat resistant glass is
free from heavy metals
and does not take on taste. Best conditions for a perfect cuppa. Moreover the trend glass teapot is dishwasher-proof and with a capacity of 1.2 litres there is enough tea for two.
Special features of the Lumos glass teapot with candle warmer
Capacity of 1.2 litres
Delivered including tea light
Made by Trendglas Jena in Germany
Glass free from heavy metals and nickel
Suitable for dishwasher
Candle warmer is integrated
Take a shine to tea brewed the traditional way
The glass teapot with candle warmer is making tea in a teapot an event. The lantern like glass cone inside the
transparent glass teapot
illuminates the tea and brings out its warmest colours. At the same time the candle heats the tea from inside the
tempered glass teapot
. The candle light is reflected by the stainless steel plate on which candle and teapot are placed. The excess heat of the candle escapes through an opening in the teapot lid. Enjoy a good old fashioned cup of tea brewed in style.
More
beautiful teapot designs and accessories
by Trendglas Jena are available from the PureNature online shop.
ALLGEMEINE DATEN
Dimensions: (HxBxT) 13,1 x 27 x 18 cm
volume: 1,2 Liter
---
Material
borosilicate glass
,
stainless steel