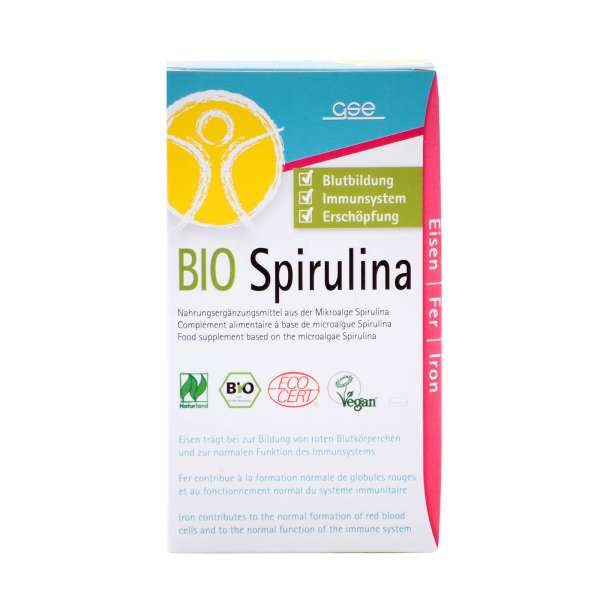 Naturland Organic Spirulina
A natural source of iron and magnesium. As a microalga, Spirulina is one of the first creatures on earth and was formed 3.5 billion years ago.
---
DE-005
Öko-Kontrollstelle

Manufactured in
GERMANY
Verified & Safe purchase
GoGreen Shipping
14 days refund policy
Product information
Even the Aztecs appreciated spirulina and integrated it in their diet. The Mayas cultivated spirulina and provided 2 million people with it. The Kanembus in Africa consumed Spirulina since the year dot. In modern times Spirulina becomes increasingly popular around the world. Spirulina is a source of divalent iron, which is very utilisable and well tolerated. The pigment phycocyanin, which is extraordinary rich contained in Spirulina, is particularly significant. Renowned scientists are convinced that this important ingredient explains the global success of Spirulina.

As an interesting ingredient of the micro-algae, chlorophyll represents a solar-storage and an energy source. Chlorophyll differs from human hemoglobin (blood pigment) in only one atom. Spirulina contains a whole range of vital substances in an interesting concentration.

High-quality protein, essential amino acids, vitamins, minerals, trace elements, enzymes, etc. All vital ingredients complement each other and develop their optimum effect. The whole is greater than the sum of its parts. The cell walls consist of easily digestible polysaccharides. The nutrients are easily utilisable and do not cause indigestion.
Manufacturer details
Manufactured in Germany
GSE Vertrieb GmbH, Bühler Str. 32, 66119 Saarbrücken
Country of origin
DE-005
Öko-Kontrollstelle

Manufactured in
GERMANY
ALLGEMEINE DATEN
iron: 4 mg
---
Allergy relevant information
Properties
ohne Hefe
vegan
vegetarian
without added salt
without added salt
without almonds
without artificial flavours
without celery
without cereals containing gluten
without colourings
without decoration
without eggs
without fish
without flavour enhancer
without fructose
without garlic
without lupine
without milk & lactose
without mustard
without nuts
without nuts
without palm oil
without peanuts
without preservatives
without sesame
without soya
without sugar substitute
without sulphur
without sweetcorn
without wheat
Ingredients
spirulina pantensis (Japananese blue algae)
| Nutrient | per day in portions | Reference value |
| --- | --- | --- |
| iron | 4 mg | 28 % |
| Vitamin B12 | 5 µg | 200 % |
* (in % der täglichen Referenzmenge) Nährstoffbezugswerte (nutrient reference values) gem. LMIV (1169/2011/EU)