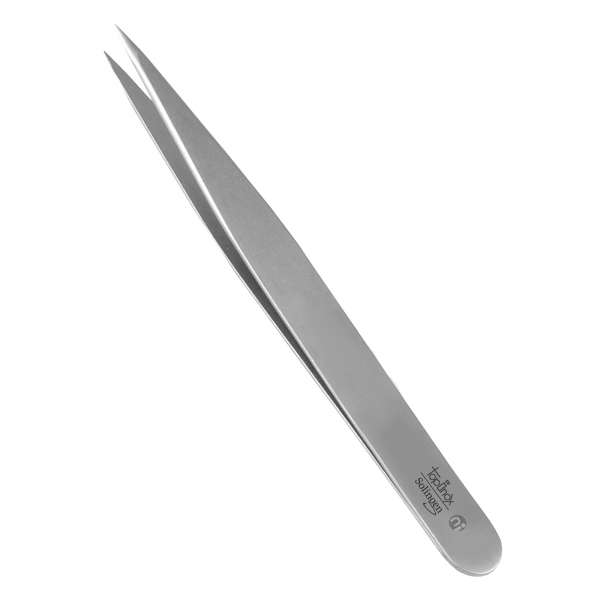 Niegeloh Topinox tweezers pointed - Precise removal of splinters
Nickel-free tweezers pointed and sharp ✔ Niegeloh Topinox Series surgical stainless steel tweezers - nickel-free, sterilizable Ϭ Suitable as splinter tweezers for nickel allergy.
---
Manufactured in
GERMANY
Verified & Safe purchase
GoGreen Shipping
14 days refund policy
Product information
Drag splitter without problems: Niegeloh tweezers pointed
During housework, gardening or outdoor excursions, a splinter of wood, metal or glass is quickly in the hand or finger. Niegeloh has specially designed the 9 cm long tweezers
pointed and extra sharp
for this purpose. If necessary, it penetrates the skin to pull the splinter into the skin. This allows you to easily remove even the most pointed wood or metal splinters and foreign objects from your skin. The tweezers for splinters are made of nickel-free stainless steel and are suitable for people with nickel allergies.
Advantages of the Niegeloh Topinox forceps pointed
Ideal for craftsmen and parents of small children
Produced from Stainless Surgeon Stainless Steel
Topinox - Suitable for nickel allergy
long-term professional quality
Extra pointed and sharp
Sterilizable, disinfectable
9 cm long
Point tweezers for splitters made of stainless steel nickel-free
The Niegeloh
Tweezers pointed
is suitable as "first aid tweezers" for craftsmen to remove wood and metal splinters. Remove splinters from your child if he or she has contracted a splinter while playing outdoors.
Hygienic and accurate pulling of splinters
In the beauty area, the pointed
tweezers remove ingrown hair
with precision. Use the Niegeloh tweezers to pull pointed splinters and other foreign objects out of the skin easily and precisely. Hygiene is always ensured because the
Surgical steel splinter tweezers
can be sterilized and disinfected.
Country of origin
Manufactured in
GERMANY
ALLGEMEINE DATEN
length: 11 cm
---
| Property | Value |
| --- | --- |
| user | man, unisex, woman |