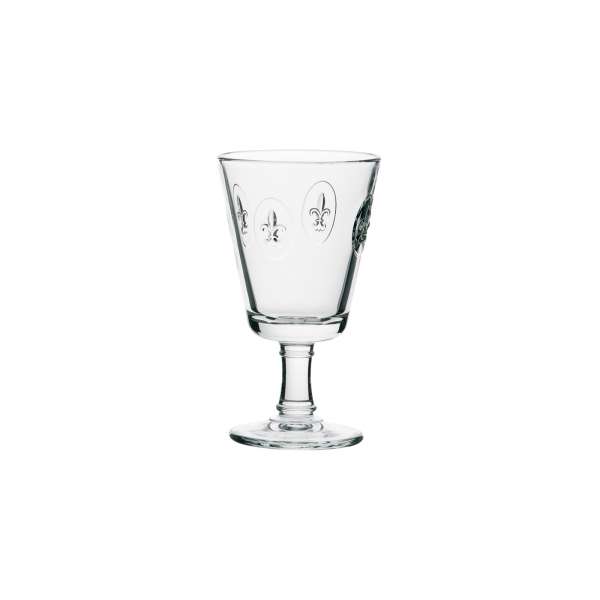 La Rochère wine glass Fleur de Lys with french lily design
Wine glass country house style with lily design ❀ Designed by La Rochère the oldest French glass manufactory. Fleur de Lys glass - can also be used as noble water glass ✔
---
Manufactured in
FRANCE
Verified & Safe purchase
GoGreen Shipping
14 days refund policy
Product information
Wine glass country house style
The La Rochère wine glass is a glass for everyday life. Invite your friends on the terrace or in the garden and serve them red or white wine. The
La Rochère glass
matching the table decoration gives festivities something special. Because the French wine glass is thick-walled, it does not break when it falls over. The La Rochère wine glass Fleur de Lys 240 ml is
dishwasher safe
. This makes the lily design wine glass ideal for buffets and parties, even when they take place outdoors.
Practical and beautiful: thick-walled
glasses suitable for catering
and easy to transport.
Highlights La Rochère Wine Glass Fleur de Lys
Robust wine glass for everyday use and festivities
Stylish 240 ml glass with lily decor
Suitable as outdoor wine glass
Ideal for garden parties and buffets
wine glass country house style
Highlight for table decoration
Wine glass catering suitable
dishwasher safe
Practical Wine Glass with Fleur de Lys Design
The robustness, together with the playful beauty, have shaped the La Rochère Fleur de Lys wine glass. The
country house style glass with classic French lily design
was already produced in the nineteenth century by La Rochère, the oldest glass manufacturer in France. Use the pretty Fleur de Lys glass for water and juice on the dining table. The uncomplicated utility glass beautifies your everyday life.
More
La Rochère glasses Lily
can be found in the PureNature Onlineshop.
Country of origin
Manufactured in
FRANCE
ALLGEMEINE DATEN
Diameter: 8,5 cm
Weight: 340 g
capacity: 240 ml
height: 14 cm
---
| Property | Value |
| --- | --- |
| free from | without aluminium, without coating, without metal, without nickel, without phthalate, without plastic |
| properties | classic, dishwasher-proof, for heavy metal allergy, for nickel allergy |