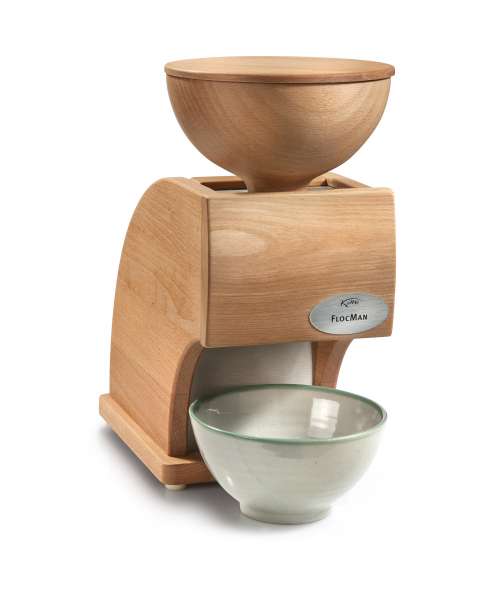 Komo Flocman Electric Flaker 140W
Start your day healthy and active day with fresh flakes from the Komo Electric Flocman and your breakfast will turn into a highlight. The Flaker crushes aromatic, healthy grains quietly and in no time!
---
Fast delivery!
available from 30.09.2021
Manufactured in
AUSTRIA
Verified & Safe purchase
GoGreen Shipping
14 days refund policy
Product information
Healthy food that's fun! Nutritionally balanced flakes produce a healthy breakfast for yourself or for baking sweet and savory pastries - so easy and straightforward with the FlocMan flaker. Quiet and reliable, he crushes all desired types of grains (except corn) and oilseeds and spices. So you can produce aromatic, healthy flakes in no time!
Highest craftsmanship is reflected in the attractive housing of solid beech, where the wood used is naturally from certified native forests. The surfaces of the Flocman are treated only with organic vegetable oil.

Delivery includes a matching hand-crafted ceramic bowl.

Each of the Komo mills that we offer has the seal of the GS-TUV Product Service. A warranty period of twelve years from the date of purchase assures you that you are purchasing one of the best currently available products!

Tips for handling the FlocMan:


It is recommended to use well cleaned organic grains.
Place the Flaker on a flat surface.
Only oats and oilseeds (such as linseed) can be immediately processed into flakes.
If you would like oat flakes, we recommend using so-called naked oats, to avoid possible bitterness.
Fresh flakes should be eaten within 1-2 hours because the crushing starts an oxidating process which may effect the quality.
Other grains such as wheat, rye, barley, millet, etc. must be prepared before crushing:
So that the normally dry and brittle grain does not crumble into small pieces, it should be moistened slightly before crushing.
This way the kernels absorb water and have the necessary elasticity.
At the same time an enzymatic process makes the minerals more readily available for the human metabolism.

Briefly hold the grains in a colander under running water.
Spread the seeds out to dry overnight (at least for 3-4 hours). And your Flocman will produce great flakes.
Komo stands for:
Sustainable Production in the "sheltered workshops" where people with and without disabilities have been producing the wooden housing from local forests for the last 20 years.
Quality Management by the CEO personally, who takes care of the final inspection and quality control
Easy to use
Easy cleaning
Finest grinding quality with minimal noise and a powerful motor
Patented suspension of the mill
Country of origin
Manufactured in
AUSTRIA
ALLGEMEINE DATEN
Dimensions: 15 x 29 x 32 cm
Weight: 6,2 kg
guarantee: 3 Jahre
MATERIAL
material / surface: Buche massiv, geölt
Equiqment
electricity: 140 W
Quetschwerk: Edelstahlwalzen
flaking performance: ca. 80-100 g/min
flake thickness: stufenlos einstellbar
engine power: 140 Watt Industriemotor
filling quantity funnel: 600 g bei Weizen
height: 120 mm
Volume level 2: ca. 40 db(A) bei Dinkel
Volts: 230 V
---
Material
beech wood
,
stainless steel
| Property | Value |
| --- | --- |
| ground material | amaranth, barley, buck wheat, einkorn, green spelt, Hafer, kamut flour, Leinsamen, quinoa, rye, spelt, wheat, wild emmer |
| grind / does not mill | Hartgetreide (Mais, Reis, Hirse..), Hirse, Hülsenfrüchte (Kichererbsen, Bohnen..), Kichererbsen, Mais, nuts, Reis, Windrad |
| type of mill / Flaker | Flockenquetsche |
| grinding gear / flaker gear | Metall Quetsche |