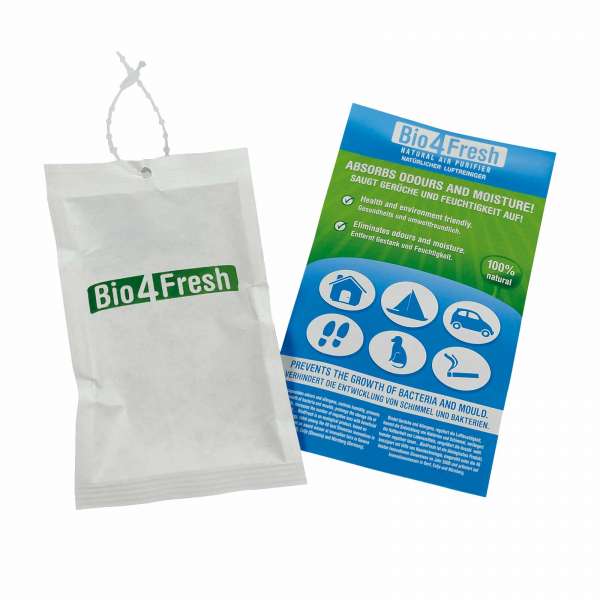 Odour absorber Bio4Fresh
The odour absorber from Bio4Fresh is 100% natural with no fragrances. It frees the air of unpleasant odours, regulates the humidity, and can even eliminate the smell of formaldehyde.
---
Verified & Safe purchase
GoGreen Shipping
14 days refund policy
Product information
The Bio4Fresh odour absorber acts like a sponge on gasses and odours which can arise from perfumes, chemicals, smoke, garbage, ammonia, formaldehyde, paint, house pets etc... The odours don't just get covered up, they are actually eliminated.

Bio4Fresh even inhibits the growth of bacteria and mold spores.

Where can you use Bio4fresh?
There is practically no limit to how the bags can be used:

Interior:. kitchen, living room, bedroom, bathroom, pantry, laundry room, refrigerator, closet, garbage bin, shoes or sports equipment

Bio4Fresh can even be of help in the office: Health disadvantages deriving from laser printers, copy machines and fax machines as well as outgassing from furniture and walls can be fought effectively with the odour absorber.
If you place Bio4Fresh in the refrigerator, it can prolong the shelf life of fresh food.


Outdoor use: car, caravan, boat or garden arbour.

The odour absorber reduces allergens in the air and can increase the number of health supporting negative ions in the air which is particularly interesting for allergy sufferers.

The high utility value has already been certified by the Technical Control Board in Austria.

Details for use:


Bio4Fresh has an efficiency of up to three months.

One bag is enough for a room of approx. 15m². For larger rooms or very strong odours you can easily use more bags.

After use, the bag is opened and the contents can be thrown in the organic bin or on the compost. The empty bag can be disposed in the bin for plastic.
ALLGEMEINE DATEN
Dimensions: 18 x 11 cm
---