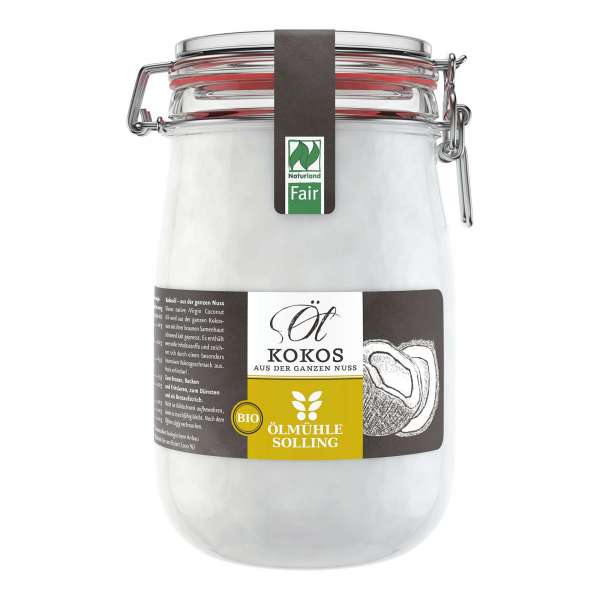 Buy organic coconut oil native for cooking & frying - Solling
Oil mill Solling coconut oil native - Naturland Bio certified & Fair for Life ✔ Cooking, frying & for hair and skin care. Buy now ▻
---
DE-039
Öko-Kontrollstelle

Manufactured in
GERMANY
Verified & Safe purchase
GoGreen Shipping
14 days refund policy
Product information
organic coconut oil native in controlled biological Naturland Quality
Solling Virgin Coconut Oil is Naturland certified and has been awarded the "Fair for Life" Fair Trade Seal. The special feature of this natural product, the
Bio Coconut Oil Nativ
is extracted from the whole coconut, including the brown seed coat. Valuable nutrients are retained. Only ripe coconuts from organic cultivation are processed purely mechanically, by cold pressing to the high-quality oil mill Solling coconut oil nativ.
In the kitchen, versatile and healthy
Use the unhydrogenated, pure vegetable fat where you would normally use butter, margarine, oil or fat. Wok dishes get a fine taste and taste incomparable to
Solling Virgin Coconut Oil
. Use the heat-stable organic coconut oil natively for baking, frying and deep frying. The special advantage is that it is extremely heat-stable, does not splash and does not burn. Definitely try it: A real delicacy is
the Naturland certified Solling coconut oil nativ
on bread instead of butter. Together with jam or nutmeg, a treat!
Special features of the oil mill Solling coconut oil native
Naturland certified, Fair for Life - Fair trade

From whole, fully ripe, fresh coconuts

Native, cold pressed, gently processed

does not splash when roasted, does not burn

Unrefined, unbleached

In 1 litre iron-on glass
Why prefer Virgin Coconut Oil?
This special oil mill Solling coconut oil is a treasure that is unparalleled. It is obtained from whole, fully ripe coconuts. A cold-pressed
coconut oil unbleached, unhardened and unrefined
. No chemicals are used in the manufacturing process. Solling Virgin Coconut Oil is completely natural and smells mildly of coconut. This is a proof of quality and testifies that you have a pure natural product in your hands. Another important aspect, the
Solling Koskosöl is a Fair for Life product
. This means that everyone involved in the production process is fairly remunerated and the environment is protected.
Natural care for skin and hair
Virgin Coconut Oil can be used in more than just the kitchen. Use the high-quality oil mill Solling coconut oil nativ also for the care of your skin and for cosmetic applications. As a purely natural massage oil without additives, it is slowly absorbed and intensively cares for the skin. A special value takes
pure unrefined coconut oil
in the hair care. Your dry hair will regain its shine and moisture in a natural way. Simply apply Virgin Coconut Oil to damp hair and let it work for a few hours.
Bio coconut oil not cooling
In summer and at higher room temperatures, cold-pressed coconut oil is liquid. The melting point is 24°C, below which it solidifies into solid fat. Do not cool the
Virgin Coconut Oil
. Cold pressed coconut oil retains its spreadability and its full, fine aroma at normal room temperature. Keep it in an airtight oil mill Solling iron-on glass.
Enjoy the valuable ingredients of organic coconut oil natively in the kitchen and for the care of your skin and hair.
Manufacturer details
Manufactured in Germany
Ölmühle Solling GmbH, Höxtersche Str. 1, 37691 Boffzen
Country of origin
DE-039
Öko-Kontrollstelle

Manufactured in
GERMANY
---
Allergy relevant information
Properties
low in carbohydrates
ohne Hefe
vegan
vegetarian
without added salt
without added salt
without almonds
without artificial flavours
without celery
without cereals containing gluten
without colourings
without decoration
without eggs
without fish
without flavour enhancer
without garlic
without lupine
without milk & lactose
without mustard
without nuts
without nuts
without palm oil
without peanuts
without preservatives
without sesame
without soya
without sugar substitute
without sulphur
without sweetcorn
without wheat
Ingredients
Ingredients marked with * are from organic farming.
| Nutrition facts | per 100g |
| --- | --- |
| Energy | 3700kJ / 900kcal |
| | |
| --- | --- |
| Fat | 100.0 g |
| of which saturated | 92.0 g |
| unsaturated fatty acids | |
| of which polyunsaturated | |