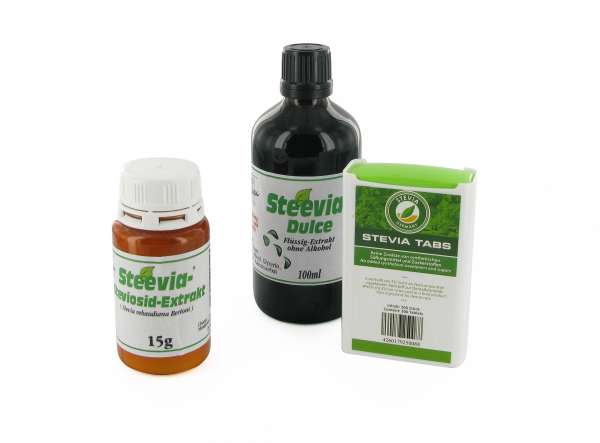 Stevia Set: Powder 15 g, 250 Tabs, Dulce 100 ml
Try Stevia and save: with this promotional pack you get 15 grams of stevia powder, 100 ml stevia Dulce liquid without alcohol and stevia tabs in a dispenser 15g, 250 tablets at a specially reduced price.
---
Manufactured in
GERMANY
Verified & Safe purchase
GoGreen Shipping
14 days refund policy
Product information
The ingredient of the plant is a glycoside or better said, a stevioside, which consists of the alcohol Steviol and 3 glucose molecules. Stevioside has a 300-fold effect of sucrose and does not contain nitrogen.
Manufacturer details
Manufactured in Germany
PureNature
Country of origin
Manufactured in
GERMANY
---
Allergy relevant information
Properties
ohne Eier
ohne Erdnüsse
ohne Fisch
ohne Geschmacksverstärker
ohne glutenhaltige Getreide
ohne Hefe
ohne Knoblauch
ohne Krebstiere
ohne künstliche Farbstoffe
ohne Lupine
ohne Mais
ohne Mandeln
ohne Milch & Laktose
ohne Nüsse
ohne Palmöl
ohne Salzzusatz
ohne Schalenfrüchte
ohne Schwefel
ohne Sellerie
ohne Senf
ohne Sesam
ohne Soja
ohne Weichtiere
ohne Weizen
ohne Zuckerzusatz
Vegan
Vegetarisch