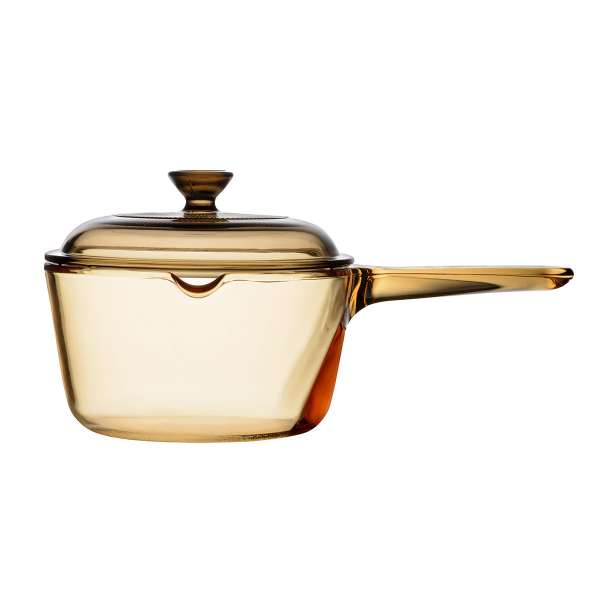 Visions Pans Glass Cooking Dish - Spouted 1L Saucepan & Lid
Perfect for sauces and gravy. Cooking and serving in one glass cooking dish ❀ Also great saucepan size for single servings or reheating smaller portions ✔
---
Verified & Safe purchase
GoGreen Shipping
14 days refund policy
Product information
Cooking and serving in one
The visions 1L saucepan has the perfect size for gravy, sauces and sides. Smaller amounts of food tend especially to cool faster. The beautiful amber glass is heat retaining which makes the
glass cooking dish
perfectly suited for serving. The saucepan with spout and lid keeps your food warm and makes serving liquids easy. The heat retaining properties are also the reason why cooking with
the glass cooking pan is energy saving
in comparison with conventional metal cookware. The glass can withstand extreme temperature differences. Leftovers can be kept in the pan and stored in fridge or freezer and then heated up in the same dish without defrosting first.
Visions versatile glass cooking dish with lid
1L saucepan with spout
Thermal shockproof glass
Suitable for all hob types except induction
Perfect size for single servings or sides
Dishwasher- and ovenproof
Heat retaining and energy saving
The perfect tool for a healthy diet
Steamed, stewed and low fat dishes cook particularly well in the Visions glass saucepans. The glass cooking dish
heats up quickly and shortens cooking time
so vegetables retain more vitamins. The non-porous glass is transparent which allows you to control the cooking process. Not overcooking food becomes easier with the Visions 1L saucepan. Food is tastier too; the
glass cooking pan
does not give off tastes or takes on any odours. It's hard, robust surface makes it difficult for food residue to stick so it is easier to clean as well.
Tip:
Stubborn food residue comes off easily if you soak the dish with some detergent. The use of rough and abrasive cleaning tools, as well as the use of any metal kitchen utensils, is not advisable as this could damage the surface.
More Visions glass saucepans and cookware
are available from the PureNature online store.
ALLGEMEINE DATEN
length: 15,3 cm
Weight: 1,06 kg
capacity: 1 Liter
included in delivery: 1 Stielkasserolle mit 1 Glasdeckel
Width with handle: 27,9 cm
height with lid: 14,0 cm
bottom: Ø 11,5 cm
width: 15,3 cm
height: 8,9 cm
---
| Property | Value |
| --- | --- |
| free from | without chrome, without coating, without Nano particles, without nickel, without phthalate, without plastic, without PTFE / PFOA |
| type of pot | all purpose pots, pasta pots, soup pot |
| colour | yellow |
| material of pots | glass |
| properties | classic, dishwasher-proof, for heavy metal allergy, for nickel allergy, modern, with lid |
| cooker type | ceramic glass hob field, electric cooker, gas cooker, microwave, oven |
| shape | round |