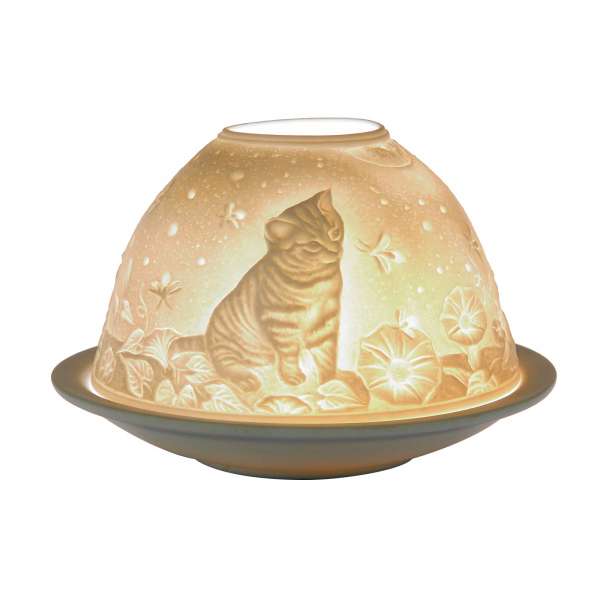 Dome Light Porcelain: Wind light decoration for table - buy online
Dome Light Wind light made of fine bisque porcelain - enchanted with winter motifs. Stylish table decoration for cosy evenings. Suitable for tea light & LED.
---
---
Manufactured in
GERMANY
Verified & Safe purchase
GoGreen Shipping
14 days refund policy
Product information
atmospheric candlelight
Dome Lights are fine porcelain lanterns that play with light and shadow. A pretty gift idea, not only for Christmas, is a
Dome Light porcelain lantern
with snowflakes, kittens or winter landscape as a motif. Made of the finest bisque porcelain, this lantern conjures up atmospheric light effects in your living room on cold winter days. A Dome Light porcelain lantern as a table decoration is a stylish enrichment.
Dome Light Porcelain Lantern Special features
White biscuit porcelain
Miscellaneous motifs
For tea light and LED suitable
Traditional Lithophany Technique
Packed in an attractive gift box
old manufacturing technique for atmospheric light
The Dome Light Wind light consists of a plate for the tea light and an open porcelain dome. Place a tea light on the plate, light it and put the dome over it. The candlelight
shows off the filigree, relief-like motif
in all its subtleties. This special technique of porcelain processing dates back to the 18th century. The noble bisque porcelain of a
Dome Light porcelain lantern
is differently strong, so a fascinating shadow play develops. The motifs "Kittens" and "Winter Dreams" have also incorporated cuts into the design, which provide additional light effects.
Tip for cleaning the Dome Light Lantern
The interior of the dome is glazed and easy to clean if soiling has occurred, e.g. from soot. Mix about 100ml of warm water with 2-3 teaspoons of Kaiser soda. Apply to a brush to brush the
Dome Light porcelain
, then rinse and rub dry with a cloth. Please note: The storm lamp dome can become hot after some time if used in the upper area. Delivery without candle. You can find matching tea lights in the PureNature Online Shop.
Country of origin
Manufactured in
GERMANY
ALLGEMEINE DATEN
Diameter: 12 cm
height: 7 cm
---