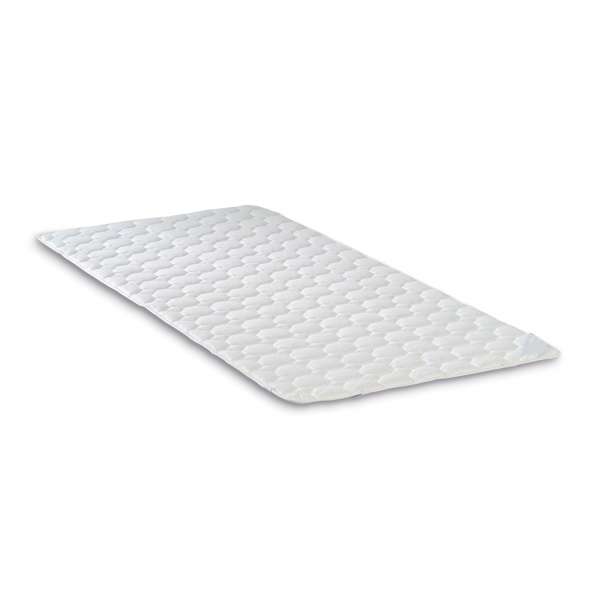 PureNature underblanket cotton 95°C washable for allergy sufferers
A pure cotton underblanket without synthetic fibre for people who want a cuddly underblanket. Machine washable at 95°C for disinfection.
---
---
Manufactured in
AUSTRIA
Verified & Safe purchase
GoGreen Shipping
14 days refund policy
Product information
More comfort, more hygiene
The PureNature cotton underblanket is ideal for people who need a washable underblanket or for whom disinfection is important. The cotton underblanket protects your mattress and absorbs moisture at night and releases it again during the day. With this cotton underblanket from PureNature you increase the sleeping comfort for a restful sleep.
Important note:
Please note that cotton underblankets can have up to 10% shrinkage after the first wash.
Washable and easy to clean
The underblanket cotton has a cover and filling made of 100% cotton, which is mechanically specially prepared. This means that the cotton used can be washed in the washing machine at 95°C and tumble dried. In between, it is sufficient to ventilate the PureNature cotton underblanket regularly.
underbed cotton 95°C washable:
Increases lying comfort

Extremely hard-wearing

Rubber bands for fixing on the mattress

Easy to clean

protects and protects your mattress
Quality from Austria
The PureNature underblanket is produced for us in the Salzburger Land in a traditional manufactory. The special quilting of this underblanket ensures that the filling still fits perfectly even after repeated washing. The PureNature cotton underblanket is fitted with corner elastic bands to ensure a firm hold on the mattress.
Ideal for allergy sufferers:
The PureNature underblanket cotton 95°C washable is recommended especially for all mould fungus and house dust allergy sufferers. Allergens and fungi are killed and the cotton underblanket is disinfected after washing.
Tip:
Ventilate your bedroom regularly!
It is best to open the bedroom window wide in the morning and let fresh air in. Your good duvets, mattresses and underblankets will thank you with a long life!
PureNature also offers winter and summer duvets that are washable at 95°C.
Country of origin
Manufactured in
AUSTRIA
ALLGEMEINE DATEN
net weight: 90 x 200 cm: 810 g, 100 x 200 cm: 900 g, 120 x 200 cm: 1080 g, 140 x 200 cm: 1260 g, 160 x 200 cm: 1440 g, 180 x 200 cm:1620 g, 200 x 200 cm: 1800 g
Color: weiß
Filling: 100% Baumwolle
material: Gewebe 100% Baumwolle
net weight: 90 x 200 cm: 810 g, 100 x 200 cm: 900 g, 120 x 200 cm: 1080 g, 140 x 200 cm: 1260 g, 160 x 200 cm: 1440 g, 180 x 200 cm:1620 g, 200 x 200 cm: 1800 g
PFLEGEHINWEISE
washable: 95° C waschbar
suitable for tumble drying: Ja
MATERIAL
workmanship: mit Gummiband an den Ecken, Wabensteppung
---
| Property | Value |
| --- | --- |
| moisture transfer | mittel |
| breathability | temperature regulation capacity high |
| warming capability | mittel bis gut wärmend |
| care instructions | 40 °C Maschinenwäsche, 95° C Maschinenwäsche, Trockner geeignet |
| temperature equalisation | hoch |
| season | Ganzes Jahr |
| snuggle factor | mittel - weich |