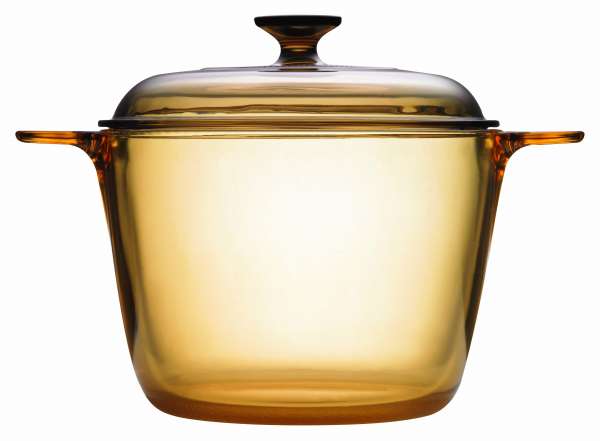 Visions Glass Casserole with Lid - Large with Capacity of 3.5L
Tall glass casserole with lid by Visions. Perfect for soups, casseroles & foods with a tendency to boil over ✔ Thermal shock proof glass-ceramic ✔
This product is currently not available.
---
Manufactured in
FRANCE
Verified & Safe purchase
GoGreen Shipping
14 days refund policy
Product information
Always in control of the cooking process
The glass casserole with lid makes cooking more eco-friendly. The large glass casserole dish
allows convenient monitoring
of food with no constant hovering over the pot. In addition the tall design helps prevent food from boiling over. The preparation of starchy foods such as noodles, pasta, rice or the making of small batches of jam becomes a lot easier. The amber glass cookware lets you see when it is time to turn down the heat without having to lift the lid. That saves time and energy and, because of the heat retaining properties of the glass-ceramic, the
Visions cookpot
is even more energy efficient because it cooks food faster.
The Visions glass casserole with lid for a great cooking experience
For healthy organic cooking without harmful chemicals
Suitable for oven, microwave and all hobs except induction
Heat retaining, energy saving and eco-friendly
Large 3.5L casserole dish and tall design to prevent boiling over
Thermal shock resistant, suitable for use in fridge and freezer
Easy to clean and dishwasher-proof
Healthy organic cooking with the Visions cookpot
The large glass casserole with lid is made from an amazingly hard, non-porous glass that does not react with foods and does not give off any harmful chemicals. This makes the
amber glass cookware
suitable for people with MCS (Chemical Sensitivity) and nickel allergy. Moreover it also does not change the taste of fruit and vegetables making the
large glass casserole dish
perfect for preparing small batches of jam, preserves and chutney or for cooking delicate vegetables of the taller variety such as asparagus. Enjoy the "bubble, bubble without trouble" experience of the Visions cookpot.
For
more casseroles, pots and pans by Vision
go to the PureNature online shop.
Country of origin
Manufactured in
FRANCE
ALLGEMEINE DATEN
length: 20,8 cm
Diameter: 20,8 cm
Weight: 2,46 kg
capacity: 3,5 Liter
base diameter: 16,5 cm
included in delivery: Topf mit Glasdeckel
Width with handle: 30,3 cm
height with lid: 22,0 cm
width: 20,8 cm
---
| Property | Value |
| --- | --- |
| free from | without chrome, without coating, without Nano particles, without nickel, without phthalate, without plastic, without PTFE / PFOA |
| type of pot | all purpose pots, pasta pots, soup pot, vegetable pots |
| colour | yellow |
| material of pots | glass |
| properties | classic, dishwasher-proof, for 4 persons, for heavy metal allergy, for nickel allergy, with lid |
| cooker type | ceramic glass hob field, electric cooker, gas cooker, microwave, oven |
| shape | round |