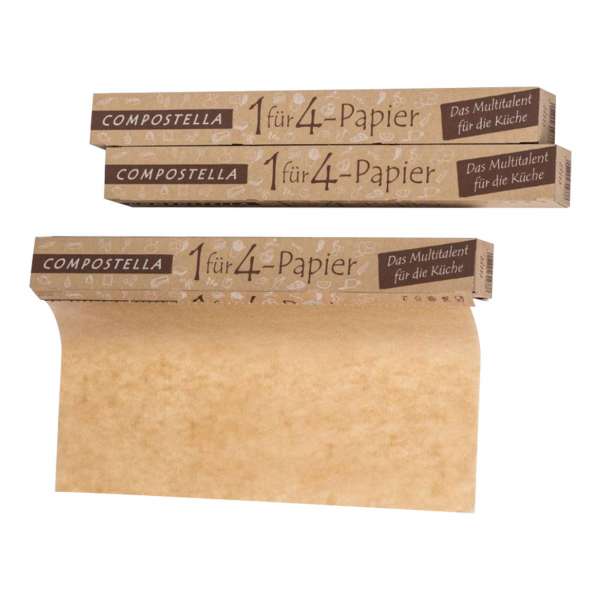 Compostella 1for4 paper
Plastic-free Compostella 1 for 4 paper - ecological alternative to aluminium foil, baking paper & cling film ✔ fat-proof, wet strength ✔ 8m roll ▻ buy.
---
Manufactured in
GERMANY
Verified & Safe purchase
GoGreen Shipping
14 days refund policy
Product information
Natural Alternative - Better for Health & Environment
With the compostable Compostella 1 for 4 paper, more environmental awareness has returned to the kitchen and household. The
Compostella paper on the roll
is very versatile. Use it as an alternative to aluminium foil and baking paper, as a replacement for cling film, and as a greaseproof paper for storing food. The good thing about it,
Compostella paper is compostable
in garden compost or in the green and brown bin. Consisting of 100% cellulose, the environmentally conscious alternative rots within approx. 14 days. More nature in the household!
Special features Compostella 1 for 4 paper
unbleached, without chemical additives
neutral in taste, no inherent odour
Compostable, 100% plastic-free
Wreeling edge without metal
BPA free, without silicones
greaseproof, wet-strength, food-safe
Plastic-free, without chemical additives
Compostella 1 for 4 paper, is produced as an ecological innovation in a small German paper mill. The unbleached, pure cellulose is pressed with hot steel rolls. This process produces a smooth,
greaseproof paper
, which is also heat-resistant and wet-strength. These are the best prerequisites for using Compostella paper as an alternative to aluminium foil, as wrapping paper for cheese and sausage
storing without plastic
.
Environmentally aware and high utility value in the household
Compostella 1 for 4 paper is produced from
PEFC, FSC certified thinning wood
and is guaranteed to be free of recycled paper. Due to the mechanical processing the end product is
tasteless and odourless
. Ideal for use with food.
Application Compostella Paper instead of aluminium foil
For baked potatoes without aluminium foil simply tear off a piece of
Compostella 1 for 4 paper
, moisten with water, squeeze out and wrap the potatoes individually in it. Then place in the oven as usual. Compostella Paper as
Alternative to aluminium foil
is also suitable for meat, fish and vegetables.
Öko wrapping paper instead of cling film
To cover vessels, moisten the Compostella paper under the tap and soak it, squeeze it out, unfold it and stretch it over the respective vessel in a damp state. The moist
Compostella Paper
clings to bowls and containers during the drying process and protects the contents.  
Statt plastic wrapping film
Use Compostella paper from the roll to wrap sausage, cheese, pastries, bread and snacks for the children. The added benefit is that food stays fresh longer. Compostella 1 for 4 paper is
breathable, greaseproof, tasteless and odourless
. Moulding of food is hardly possible with the plastic-free, breathable alternative. Compostella Papier has been awarded the
Federal Prize EcoDesign 2018
.
More
environmentally friendly Compostella products
you can get online at PureNature.
Country of origin
Manufactured in
GERMANY
ALLGEMEINE DATEN
Dimensions: 38 cm x 8 m
---