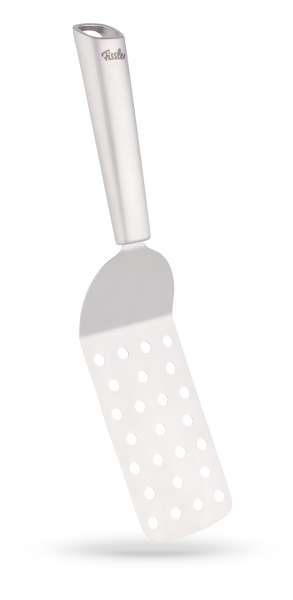 Sandwich pallet stainless steel - offset & perforated - Fissler !Q
Q! Sandwich pallet perforated to drain fat & liquid ✔ Flat, easy turning of food. Buy Fissler Kitchen Aid ▻ now.
---
Delivery time approx. 5 working days
Verified & Safe purchase
GoGreen Shipping
14 days refund policy
Product information
Function and design in harmony: Sandwich pallet Fissler Q!
The stainless steel sandwich pallet from the Fissler Q! series has a well thought-out design down to the last detail. The conical handle and the flat, angled surface allow easy lifting. Completely effortless, even if you want to get something heavy out of the pan or oven. The lifting surface of the
stainless steel sandwich pallet
is perforated, liquids and grease run off in a targeted manner.
The reliable kitchen aid
supports you quickly and easily in numerous kitchen operations. The Fissler Q! sandwich pallet is even suitable as a cake or pie lifter thanks to its well thought-out design.
Fissler Q! stainless steel sandwich pallet
Surface satin

Perforated draining board

sandwich pallet cranked

With conical, stable handle

suitable for all hand sizes

dishwasher safe, heat resistant
Practical and safe handling
The ergonomically shaped handle ensures that the sandwich pallet lies securely in the hand. The flat shape
makes it easy to turn food
. When not in use, hang the sandwich pallet up on the practical eyelet.
Fat drips off
The offset sandwich pallet is particularly suitable for healthy, low-fat cuisine. Use the Q! kitchen aid as a pan turner, excess fat and liquids will run off through the angled, perforated surface. See for yourself the next time you turn over pancakes or potato pancakes, how helpful and useful the
sandwich pallet can be as a pan turner
. Discover the numerous advantages that the practical Fissler Q! kitchen helper offers you for frying, cooking and steaming!
ALLGEMEINE DATEN
Weight: 0,175 kg
Dimensions: 29 x 6,5 x 4,5 cm
---